Mariel Obregon uttered her first cry in the city of Tacloban, Leyte, the Philippines. Once mentioned, the Philippines often appears as a "Storm Country" in everyone's mind. Whenever typhoons make their "short visits", hundreds of terrible and dreadful devastations are made, including both people and material damages. Conquering in the storm is somewhat a "mission impossible" but surviving after it is way more frightful. Just imagine one day when an uninvited storm knocking and destroying everything around you with all the buildings collapsed, and your neighborhood disappearing for no reason, you, from the-one-who-has-it-all in just a tick, play in the role of the-one-who-lost-it all. What will you do? Cry? Be hopeless, clueless or distressed? Well, this girl does not; she found her chance in all those obstacles and turned them into her own big advantages, both for her and the sake of all Filipinos who are also suffering. And Agriblock Builders was born like a little miracle in the storm. Just to put it simply: What will be the first thing you do when you lose a shelter? The answer is easy: Find another one. However, the real process of actually owning one is maybe not that easy for the accumulation of the building cost, the location and not to mention one big question: If the house can stand after the next typhoon.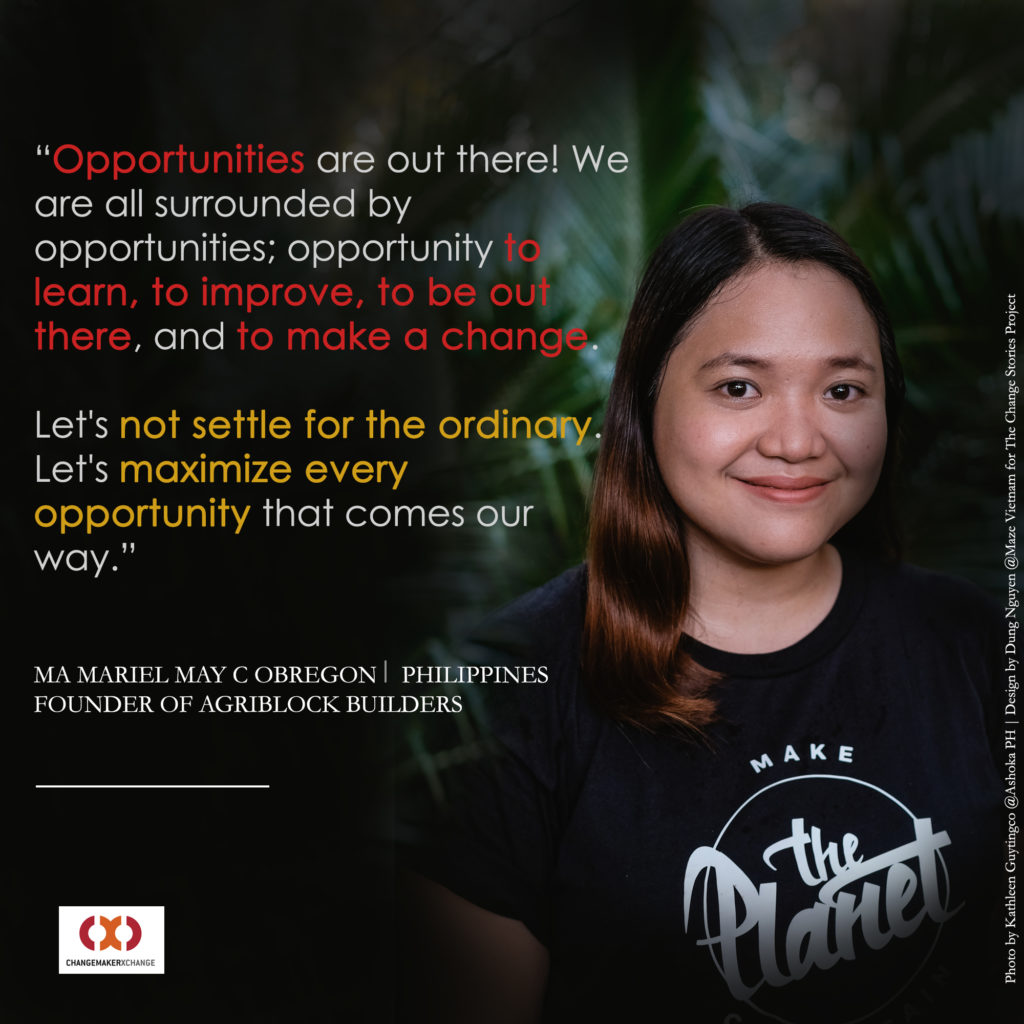 Speaking of the typhoon, in 2013, one named Yolanda sweeping through the Philippines, left behind a massive devastation resulting in a high demand but low supply for hollow blocks for housing construction. And this is exactly where the seed of a brilliant idea is sowed. Agriblock Builders was born. According to Mariel, Visayas is an agricultural area with approximately 700 tons of rice produced each year. Consequently, this results in about 400 tons of rice hull, which make up 45% agri-waste there. So what is the concept behind this? Mariel thought she could utilize those wastes to create more affordable, sustainable and greener hollow blocks for construction. And it has been magically and unexpectedly successful.
Two years ago, in 2015, Agriblock Builders was formed in Eastern Visayas, Alangalang Leyte, after a long time of Mariel's research on a solution for a problem in her hometown in her third and graduation year. Then she founded her own social start-up. The Agriblock Builders was officially established and went into business in 2016 and as she said: "It is like a baby in the startup empire".
Sharing about the WHY for Agriblocks, Mariel believes that the rights or the access to a strong-quality home should be obliged for anyone and not just privileged for some. In addition, in her hometown, it is both hard and expensive to build a house; as a result, the poor are just able to buy low-quality houses built of unqualified materials such as wood which will unlikely to last after the next typhoon. That is why Agriblock Builders – a manufacturing enterprise was born with its lofty mission of promoting the use of sustainable building materials by utilizing rice hull and converting it into more sustainable, enduring and stronger housing material RHAC (Rice Hull Ash Cement), which are known as the magical agriblocks for the homeless and typhoon-stricken community. The average number of blocks to build an average house will be around 500, and the market price for a block in her local area oscillates from 13 to 15 peso, which means it will cost around 7500 pesos for a house, not to mention other expenses. But for Agriblocks, it only takes about 8 pesos for a block and this means a great bargain for consumers when they can actually build a house with only 4000 pesos, 3500 cheaper compared to using the old materials. Not to mention, agriblocks have been proven to have up to 5 times higher PSI (Pound for Square Inch); they are not only stronger than commercial hollow blocks but they also show their pre-eminence in cheaper price and lighter in weight. So at the same time, Agriblock Builders actually kills two birds with one stone. First of all, it solves the problem of demand and supply. In the first 6 months, it sold 5000 blocks and up to 1200 blocks recently meeting the demand of 20 households. Secondly, Agriblock Builders has been on the process of reducing agri-waste along with the use of cement. Since rice hull is utilized and converted into rice hull ash cement, it can actually decrease the amount of cement used for house building and solves the problem of environmental waste in the area. Above all, all these ideas have truly lived up to Mariel's Agriblock's motto: "Helping Nature. Building Homes".
Nothing is given for free, and nothing is done without efforts and challenges. As a girl majoring in management of the University of the Philippines Visayas Tacloban College (UPVTC), Mariel first struggled with researching on a new field of engineering. She is like a pagan child, trying to exceed in a field that was not meant for her at first. The Philippines seems not to be an ideal place for social enterprise so this puts up a huge barrier for social enterprises just like hers. Also, at the same time, her parents just want her to finish college and get a job in the field of medication and banking. "Think big and differently" is out of the zone. When Mariel first tried to get sponsorship, she was turned down because the investors did not appreciate the idea. However, she did not get depressed; she finally managed by getting help with finance from her teammates and friends. Besides, she sent proposals as many as she could to all the NGOs and the local Government in order to seek for grants. "It's hard to change people's mindset," she added. It is hard for people to accept something bearing the label "new". The first stage in a product's lifetime is always full of unexpected things and challenges in making decision of whether to stop or to continue, not to mention all the documents and all the things she had to prepare in the process of business registration, finding the location and of course a small amount of registration fee along with it. But through both observation and judgment of what Agriblock Builders has achieved, it is for sure that Mariel is still doing a great job.
When being asked about the form of the enterprise, she used the word "hybrid", which means a combination of both NGO and a normal enterprise in her idea. Explaining of this new form, Mariel said that Agriblock Builders is currently subsidizing the price for the consumers, which explains for the price of 8 pesos and at the same time trying to maintain the margin for sales in order to ensure the sustainability of the enterprise. In the future, she hopes that Agriblock Builders can collaborate with construction enterprises so that people can have access to a higher-quality house and higher-quality material for housing and building. And in the next 5 years, she and her Agriblock Builders team will continue improving this brand new product as well as raising the value of it.
Besides working as an active founder of Agriblock Builders, Mariel is also a teaching instructor at UPVTC. However, she still can manage her two jobs very well. She spends 4-5 hours a day at school, and the rest of her time for her venture. Mariel has no longer been a strange face in the field of entrepreneurship since her appearance in the area winner and finalist list of the Youth Entrepreneurship Development Workshop (YEDW) – a developmental workshop for young Filipino entrepreneurs. She is also one of the five promising millennials in the field of entrepreneurship by the NGO Philippines Center Go Negosyo which is in partnership with YEDW.
What Mariel has been doing in all those years of youth is in no doubt. She said that family, friends, and supporters are always there for her. And she is also lucky to find people who share the same vision with her, from her teammates to her workers despite backgrounds and experiences. It seems that this story will come to an end now because Mariel has succeeded on her own track. Her own story will still continue but for our readers, we have learned a great deal from this inspiring person. After this story, you can choose to support her or you may have the courage to write your own. Either way, it is believed that there will always be a silver lining or a real miracle in the storm.
---
Story written by Trang Nguyen @Maze Vietnam for The Change Stories Project
The Change Stories is a cross-border collaboration project co-created by Maze Vietnam from Vietnam and The Optimist Citizen from India. We cover multi-media stories of the world's top social innovators in ChangemakerXchange summit with an ultimate mission of inspiring people from across the world to become changemakers, together creating positive changes and making the world a better place.