Project Lead
Core Team Member Vacancy
Project Lead
Core Team Member Vacancy
(Full-time position until March 2025, with the possibility of becoming a long-term engagement)
Want to join a small and agile team with a big vision, working at the cutting edge of social innovation?
For the earliest date possible, we are looking for a creative, highly organised, and dynamic core team member and project lead to join us at ChangemakerXchange and work on the design, delivery, and evaluation of an exciting new Europe-wide programme called "Changemakers for Democracy."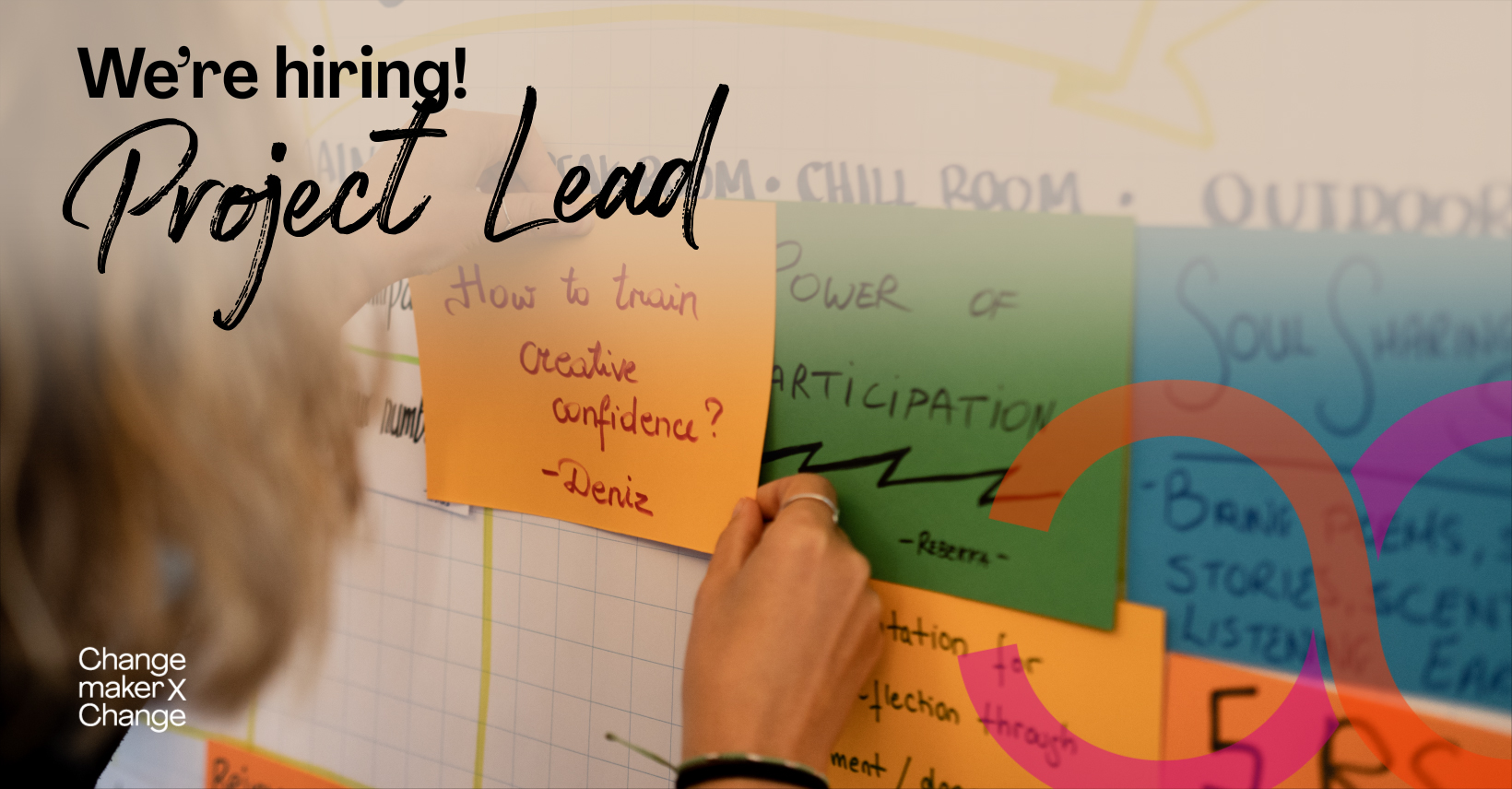 1. The Project
Through the "Changemakers for Democracy" Fellowship, we plan to surface, support, and connect some of the highest impact potential ideas and ready to be scaled existing solutions to democratic renewal in Europe. Participants and Fellows within the programme will receive extensive support, connections to changemakers across Europe and the world, customized capacity building, individual and collaborative grants, participation in physical gatherings and introductions to key stakeholders within the Democracy Ecosystem across Europe.
2. The Environment
We strive for a workplace that is:
Agile, fun, empowering, and fulfilling – somewhere all team members truly love to work.
Diverse and fully inclusive – a place where differences are valued and celebrated.
Free from hierarchies and bottlenecks – an organisation where everyone on the team leads and takes important decisions. For more information, check out our Modus Operandi.
Optimally set up to really deliver on our purpose and to serve our community of changemakers.
The ChangemakerXchange Mission & Vision (co-created by our community members)
ChangemakerXchange is a global community providing safe, supportive, fun, and empowering spaces for changemakers. We foster profound and lasting connections, nurture wellbeing, and enable peer-learning and meaningful collaborations so that changemakers may create, sustain and scale positive change. We envision a world where everyone is part of inclusive communities in which people connect deeply and co-create positive action to serve the wellbeing of people and planet.
3. The Role
We are looking for a project-management focused core team member to lead on our new "Changemakers for Democracy" programme; including but not limited to the below set of responsibilities.
Project management, including the creation of detailed project plans that outlines the tasks, timelines and resources required (in close cooperation with ChangemakerXchange's Programmes Lead).
Engaging and communicating with a community of high-level "Advisors", which provide regular input into the programming.
Implementation of key deliverables throughout the programme, including sharing a Europe-wide call for applications, managing the participants selection process and supporting the hosts and facilitators of physical gatherings (1 x 5-day event, 1 full-day event).
Communication with key internal and external stakeholders.
Supporting the fellows by keeping in regular contact and connecting them to relevant supports to help them on their changemaking journey.
Monitoring the progress to ensure the project stays on track and reporting of key achievements and milestones to our team and partners.
Evaluation of the entire project and creation of a final report.
Syncing with ChangemakerXchange's Comms & Marketing Team to ensure the creation of key documents, timely communication of call for applications, posts on social media, website updates and sharing updates to internal and external audiences.
Admin and Operations related tasks such as the collection and proper documentation of invoices, supporting participants of the programme with logistics, and syncing with ChangemakerXchange's Finance and Operations Lead.
Participation in team meetings and overall team discussions on strategy and the future of the programme, as well as ChangemakerXchange's overall strategy.
4. What we expect from the candidate
Passion for changemaking and ideally experience in the sector.
Ability to work and take decisions quickly and independently.
Good communicator and solution-focused.
Attention to detail, thorough and process/operations oriented.
Excellent organisation and project management skills.
Creative thinker and able to quickly bring concepts to life and put ideas into action.
Fluency in English.
Based in and with the right to work in Germany (ideally based in Berlin or able to travel to Berlin frequently). Please note that this role is for an immediate start, so the likelihood is that we will hire someone who currently has the right to work in the EU. However for strong candidates without this right, we would explore the possibility of supporting them with work permits and visas, without making guarantees that this is something we would ultimately be able to commit to.
At least 3-4 years of relevant work experience in a project management role (We count parental leave as 'work experience').
Ideally, some experience and networks within the Democracy Innovation Ecosystem in Europe.
Partnership management experience is a big plus.
Experience and fluency or very fast learning capacity with regular Office programs (MS Office, WordPress, Google Tools, Typeform).
→ The criteria above speak to you, but you have doubts that you fit them all? Please still apply, we'd still love to hear from you and explore the opportunity to work together.
5. What we offer
Ideally, a 5-day per week contract (to be discussed, we may be able to offer some degree of flexibility on this).
Much of the work will be virtual, so a regular home office is feasible.
A lovely office in the heart of Berlin, including state of the art tech equipment.
A personal development budget for external trainings and regular internal workshops and professional development initiatives.
The opportunity to spend up to 10% of your (paid) time on climate action.
Our remuneration is competitive for the sector. We collectively set your salary based on a transparent "Competency Matrix" during an honest discussion.
Depending on the candidate's years of (changemaking) experience, their competencies, role fit, as well as their relative position to other team members, this role will likely be compensated in the range of €37.000 to €53.000 per year.
6. Diversity at ChangemakerXchange
At ChangemakerXchange, we celebrate diversity as one of the key values and strengths which helps us to thrive as a global community. We strive to challenge our unconscious biases and create a fully inclusive environment for all our team members and community members.
Our ultimate goal as a core team is to be as diverse as the community members we serve and we explicitly encourage individuals of all backgrounds and abilities to apply.
7. Application process
Apply by the 8th of October at midnight GMT. We aim for a speedy decision and will do our best to inform all applicants within two weeks of the close date.
We aim for a rigorous but empowering and mutually beneficial recruitment process which consists of the following:

We shortlist high-potential candidates from the applications.
High-potential candidates are invited to a multi-step interview process, which includes

A discussion to assess the mutual fit of working styles and values, as well as the mutual fit of role and competencies. This conversation will likely take place between the 9th and the 13th of October.
A discussion with a few selected CXC community members. This conversation will likely take place between the 16th and 17th of October.

Please note that the process may also include a small 'practical challenge' (which will take no longer than 3 hours to work on, and you will be financially compensated with an allowance).
Reach out to us at with any questions about this role.