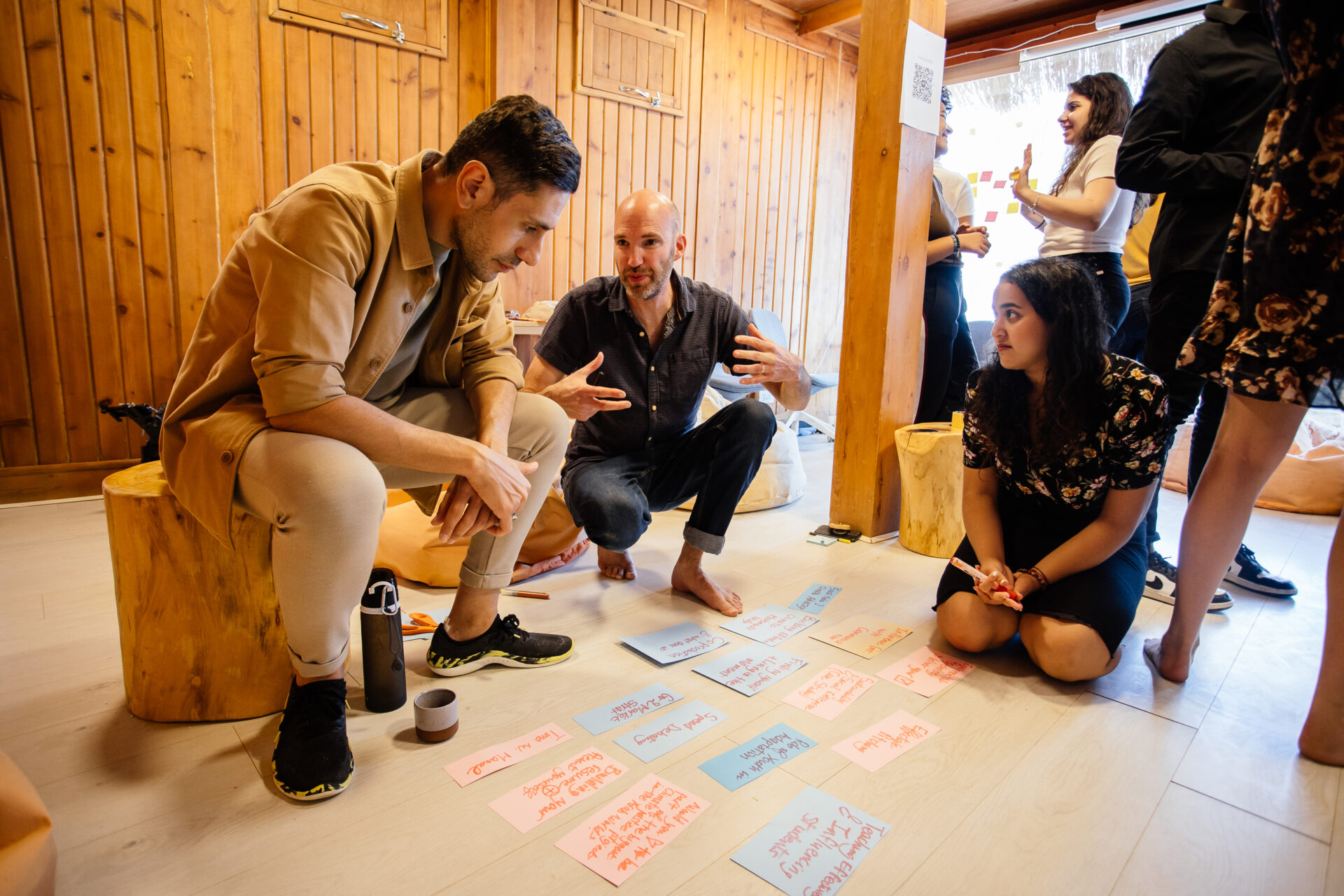 Let's re-imagine democratic and economic systems in Europe, together!
What you can expect as a Fellow
The Advisory Committee of the Changemakers for Democracy Programme
FAQ
Who is the Changemakers for Democracy programme for?
Through Changemakers for Democracy we aim to source, support and connect people with transformative innovations and ideas across Europe that re-imagine democratic and economic narratives, processes and models. There'll be a focus on ideas and initiatives:
– that shift power to people in affected communities, 
– give agency to those marginalised by the current system 
– and engage and empower people (in the most diverse sense possible) in better forms of meaningful decision-making about the issues that affect their everyday lives.

We are particularly keen to support Fellows in ensuring their ideas and work moves beyond theory into practice, and supporting them in advancing their work towards a larger 'us' beyond political or other silos. Through the links of ChangemakerXchange and that of Open Society Foundations to the wider democratic renewal community we also aim to share, amplify and give further traction to the ideas of the Fellows.
Who are the partners for the Changemakers for Democracy programme?
Changemakers for Democracy is the newest initiative of ChangemakerXchange, an international non-profit, non-partisan, non-religious, non-segregated and non-sectarian organisation with a mission to provide inclusive, supportive and collaborative spaces for changemakers, social innovators and activists from across the world.
The initiative is supported by a grant from the Open Society Foundations.
To learn more about ChangemakerXchange's partnerships including how to join this and other efforts, please visit https://changemakerxchange.org/partners/, or reach out to us via .
What is ChangemakerXchange's own political stance
As the people representing ChangemakerXchange we are very aware that nothing exists in a political vacuum. Both the individual and the collective are shaped by our environments, and our access to opportunities, services, and resources are all dictated by economic and political realities, frameworks and policies. In the same vein, we recognize that no organisation is without political leanings, and, to a certain extent, shaped by the individuals working within it. If the personal is political, then by extension, the professional must also be.
ChangemakerXchange is committed to transparency and accountability, and as part of that commitment we feel a responsibility to make our political standing explicit for those who are interested. Please note that our thinking and standpoints in regard to our 'political identity', including our mission, as well as our approach to Diversity, Equity, Inclusion and Justice continues to evolve and deepen and we invite you to follow us on our journey.
You can learn more about our political stance here
What are the key criteria for joining the programme
ELIGIBLE COUNTRIES
Applicants working in Europe, and/or resident in one of our eligible countries: Albania, Armenia, Austria, Belgium, Bosnia, Bulgaria, Croatia,  Czech Republic, Denmark, Estonia, Finland, France, Georgia, Germany, Greece, Hungary, Ireland, Italy,  Kosovo, Latvia,  Lithuania, Luxembourg, Malta, Moldova, Montenegro, Netherlands, North Macedonia, Poland, Portugal, Romania, Serbia, Slovakia, Slovenia, Spain, Sweden, Switzerland, Ukraine and United Kingdom.
and with ideas / initiatives that create impact in one or several of the countries mentioned above.
ROLE
We are looking for people who represent ideas, innovations, movements and collectives, which fit the theme of the Fellowship (democratic and economic renewal) and who are deeply rooted in the communities they work for. Whilst we're open to applications from the founders or leaders of initiatives, we acknowledge that democracy is a collective endeavour, hence we're explicitly open to people who have been nominated or 'put forward' by their collective or team in order to represent them and their ideas.
AGE:
We invite people of all ages to apply for the programme.

LANGUAGE
Whilst the selection of ideas will be based on the validity of great ideas rather than high proficiency of English, the Fellowship will be hosted in English, meaning a good level of understanding and ability to express oneself in English is required to participate in the programme. We openly acknowledge that being unable to facilitate multi-language participation is an unfortunate shortcoming and hope for everyone's understanding.
COMPLETE APPLICATION
The application form must be fully completed.
Do I need to be the original founder or co-founder?
As mentioned above, we are looking for people who represent ideas, innovations, movements and collectives. We're both open to applications from founders or leaders of initiatives, as well as to people who have been nominated or 'put forward' by their collective or team in order to represent them and their ideas.
Can two (or more people) from the same initiative or with the same idea apply?
Given the limited number of spots for this Fellowship we have a preference for individuals representing various efforts, in order to support as many different ideas as possible. If however there are two or more founders with distinctly different and complementary roles in the same initiative, we are open to accepting proposals from several people pursuing the same idea or venture – in this case please specify in your application that this is a 'joint application'.
Does my idea / project have to fulfil certain general criteria?
Clear Assessment of the Need and Opportunity:

The idea or initiative needs to be rooted in a clear understanding of what the specific need, challenge or opportunity is that the idea is trying to address or solve.

Ideas / Initiatives

: Ideally the ideas or initiatives candidates apply with to the programme need to be well thought through, tested, and have some initial traction already. We are also open to very early-stage initiatives or initiatives in the idea-stage, this will however require a clear analysis of the potential of the idea and ideally references from other existing projects, academic research, or a track record in the field of democratic renewal.

Impact

: The initiative should either have some proven impact already or show clear potential for future impact. An assessment of the idea's impact can include the relevance of the problem the idea is trying to solve or the number of people who would potentially benefit from it.

Scale

: The idea or initiative should be ambitious and have the potential to scale or to be replicated or have impact at systemic level. Please note that we imagine scale in the broadest sense. Whilst the idea or initiative should be ambitious, and could have the potential to be replicated or grow, we are mostly interested in the impact on a system – for example, your work may be only relevant to a specific community, but could be really significant in terms of inspiration, and thus 'scale' is reached this way.

Innovation

: The initiative should show ideally some elements of innovation for the specific context (meaning the ideas should be 'new' or applying new ways of thinking or new elements to existing approaches).

Democratic Renewal Fit:

The initiative should fit to the programme definition and scope of democratic renewal & new economy.
What personal criteria are important to ChangemakerXchange?
Background

: The applicant should have an existing track record in creating positive change within the democratic renewal space and/or be able to show clear proof of passion for democratic renewal, involvement in the wider ecosystem and past contributions to the topic.

Personal Connection

: Ideally the applicant is in some way directly personally connected to the idea and its context. This could be by living in the community where an idea is being implemented or having been directly or indirectly affected by the societal challenge they're now trying to solve.

Leading role:

Participants should play a leading role in the implementation of the idea or initiative.

Values

: The applicant should demonstrate an alignment with the

CXC values

.

Character

: The applicant should show an innovative and creative mindset.

Motivation

: The applicant should show motivation to engage with the Fellowship programme.
We aim for a richly diverse cohort in all meanings of the word: including but not limited to gender, demographic, class, ethnicity. (ChangemakerXchange has a dedicated DEI Team with a strong mandate and tools to ensure a high level of diversity and inclusion of candidates and participants in our programs).

We also aim for a truly diverse range of approaches and lens on democratic renewal & new economy innovations. We believe this leads to richer co-learning in the cohort and lays the ground for unexpected and creative collaborations to potentially emerge. (We ensure this through working with diverse organisations from across Europe as multipliers for our outreach).

We also explicitly invite feedback throughout the process and the programme as to whether we are building a sufficiently inclusive, non-discriminatory and anti-racist approach. We are committed to doing our very best to create and host a safe(r) space. We are only human though, meaning we might make mistakes. If you feel there's anything we said or did that we should set right or improve on, please let us know via the anonymous feedback form → https://cxcforms.typeform.com/to/OdACru3V

To learn more about our understanding of Diversity, Equity and Inclusion please visit our dedicated DEI site here
Can I join only part of the Fellowship?
ChangemakerXchange and its partners invest significant resources into this Fellowship and the spaces for participants are limited. We therefore, for reasons of fairness towards other applicants as well as a sustainable use of resources, require participants to commit to participating in all parts of the programme and for the full duration of 1 year.
How will the financial support be allocated and transferred?
The deployment of the funds will be in form of a grant to a registered charitable non-profit entity (e.g. which is run by or employs the Fellow OR by a partner organisation of the Fellow that incubates the idea and/or manages it under their roof). Fellowship candidates without a legal entity can indicate so in the application form and we'll do our best to support them with finding an alternative (e.g. by working with a partner organisation in the respective country).
Flexible Funding
In line with local regulations, the funds can be used flexibly, as long as they are used for the designated purpose.
Important note:
Please note that in the case of individuals without a charitable non-profit organisation, for legal reasons, and because we do not know the respective legislation of the country of the Fellow candidates before receiving their application, we cannot promise this is possible in every case – we are however committed to doing our very best to make sure every initiative ultimately receives financial support, and receives the same amount of funding.
Legal note:
Please note that legal hurdles may apply that make one form of financial transfer more feasible than others and that may lead to minor deviations from the 50,000 EURO contribution, we will provide assistance in finding the best way, case by case, and again are committed to an inclusive and equitable approach.
Who covers the costs of the Fellows participation in the summit and programme?
ChangemakerXchange will cover all costs associated with the physical gatherings and programme, such as: travel to and back from host cities, accommodation, catering, local transportation, room hire, equipment & material, COVID-19 rapid tests, FFP2 masks, facilitation & hosting compensation, carbon emissions offsetting derived from the local hosting, post-summit capacity-building programme and post-summit community engagement activities.
Note on Travel Costs: For logistical reasons we may have to ask Fellows to book their own transport to the host cities, and then reimburse them after the summit for their travel costs. People who cannot afford to pay for the trip can receive an advancement of the costs (versus a reimbursement after the summit).
Accessibility
This explicitly includes costs to ensure accessibility (e.g. if you're in need of a support person we would also cover the costs of travel and accommodation for them, technical assistance and such).
What does your selection process look like in detail?
Our selection process involves the following steps:
Interested candidates are asked to submit their application until 5th Dec '23 CET, 11:59pm

Initial applicants are all read by at least two project team members and compared against the key criteria stated above (project, fit within Democratic renewal, personal criteria and Diversity & Inclusion).

We then meet in the project team to create an initial longlist of around 30-35 of the most promising candidates, with notes on areas we'd love to explore further in the interview phase.

An Advisory Committee, consisting of democracy and social innovation experts from across Europe, input on the shortlist and help us create a shortlist of up to 25 candidates.

There is then a dedicated interview team, featuring local and content experts, who conduct online interviews with the candidates (we have a streamlined scheduling process to make this smooth).

Interviews take place over a two-week period with all shortlisted candidates.

There is then a final selection call between all interviewers and the project team to make the final selection of 15 participants, again including input and advice from the Advisory Committee.

Please note: Given the high number of applications we receive and the limited staff capacity, only candidates who are being considered for the final shortlist will be invited to a short informal interview to ensure their suitability in the programme and their fit with the community. This informal interview will take place online and will be conducted by a member of the CXC core team or community member. Please also note that given the high number of applications we expect we won't be able to provide individual feedback to candidates who are not shortlisted or interviewed. We thank you in advance for your understanding.
When and how will I hear back if I was selected?
We will do our best to notify all applicants by December 18th 2023 whether they were selected to move onto the interview stage. The interviews will take place between January 8th and February 1st 2024. We aim to notify all candidates about the final outcome of the selection by February 8th 2024.
Please note that you should have received a thank-you message when submitting your applications successfully and a short notification email from with a summary of your responses (please check your junk folder). If you did not see either, please contact us at .
Can I receive feedback on my application?
Unfortunately, we cannot provide individual feedback on each application. But we do send a thorough email to all applicants outlining the full application and selection process, as well as sharing useful resources for changemakers, which has always been appreciated by applicants in the past.
What is your approach to Inclusion?
We strive to be as inclusive as possible as an organisation and for all our activities, including the in-person summits. If you have any specific questions please don't hesitate to reach out to .
Also, if needed, we will prepare a personalised "onboarding toolkit" ahead of the summit to answer any questions you might have regarding disability inclusion.
What is your COVID-19 policy?
We take COVID-19 and associated health risks extremely seriously. The health of our team, participants and partners is the highest priority for us! Since we cannot yet predict the exact situation at the time of the in-person summits in Mid 2024 we won't be sharing recommendations and notes on restrictions just yet, but in case you are accepted as a participant please expect to receive an extensive COVID-19 briefing several weeks ahead of the summit.
Will you support with Visa applications?
Whilst we do everything we can to support your visa application by providing you with an invitation letter and hotel confirmation, please know that we cannot call the embassies / consulates to push for your visa. You will be responsible for your visa application process.
Beyond the Fellowship, what is the value of joining ChangemakerXchange?
The people behind the programme
Changemakers for Democracy
The applications for programme are open between 31st October to 5th December 2023