Dear Changemakers around the world,
Here we are, coming to the end of 2022. This year has been a seminal one for ChangemakerXchange , we have passed some really key milestones in our own journey, and we believe it's essential to close it by taking a pause to look back, appreciate, and celebrate what we've collectively accomplished over the year.
To do so, we will walk you through our three 'strategic pillars' which each contribute to the fulfillment of ChangemakerXchange's vision and mission.
We envision a world where everyone is part of inclusive communities in which people connect deeply and co-create positive action to serve the wellbeing of people and planet.
We are on a mission to provide safe, supportive, fun, and empowering spaces for changemakers. We foster profound and lasting connections, nurture wellbeing, and enable peer-learning and meaningful collaborations so that changemakers may create, sustain and scale positive change.
We hope this blog post will inspire you to also take a step back, appreciate any of these accomplishments you were a part of, and celebrate your own changemaking journey!
So, right away, here it is: ChangemakerXchange in 2022, across our key pillars.
Pillar 1: ChangemakerXchange Community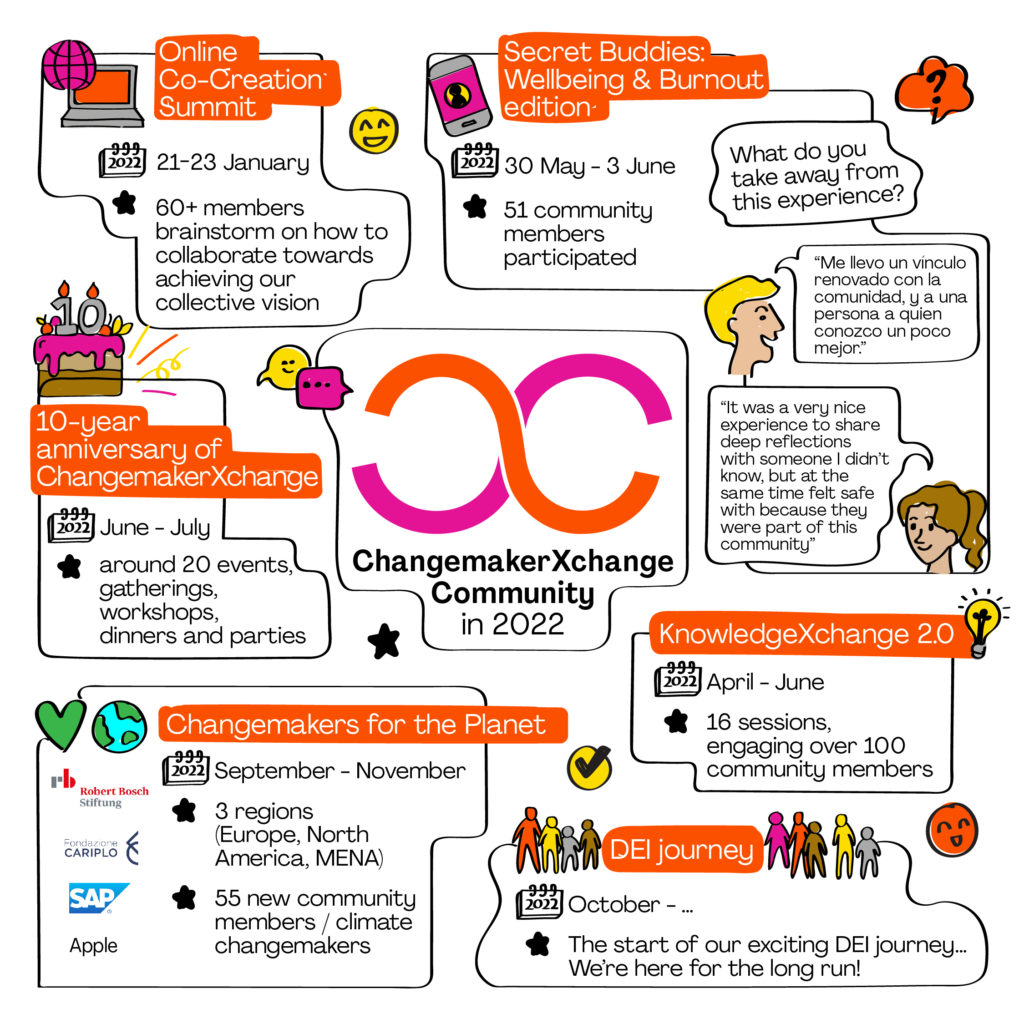 Through the ChangemakerXchange Community, we reach and work directly with ± 1000 changemakers across 130 countries globally. New members join via our flagship summits, a unique experience of connecting, co-learning, and collaborating with other social innovators from the region. This is then followed by ongoing, and life-long, community engagement, capacity building, and support for their work.
Online Co-Creation Summit
We kicked off the year by hosting an online Co-Creation Summit, which has always been an intense and beautiful process where community members gather to shape the direction of the community. It is a testament to the community-led principle we hold on to since day one when the community started—and this one was no exception.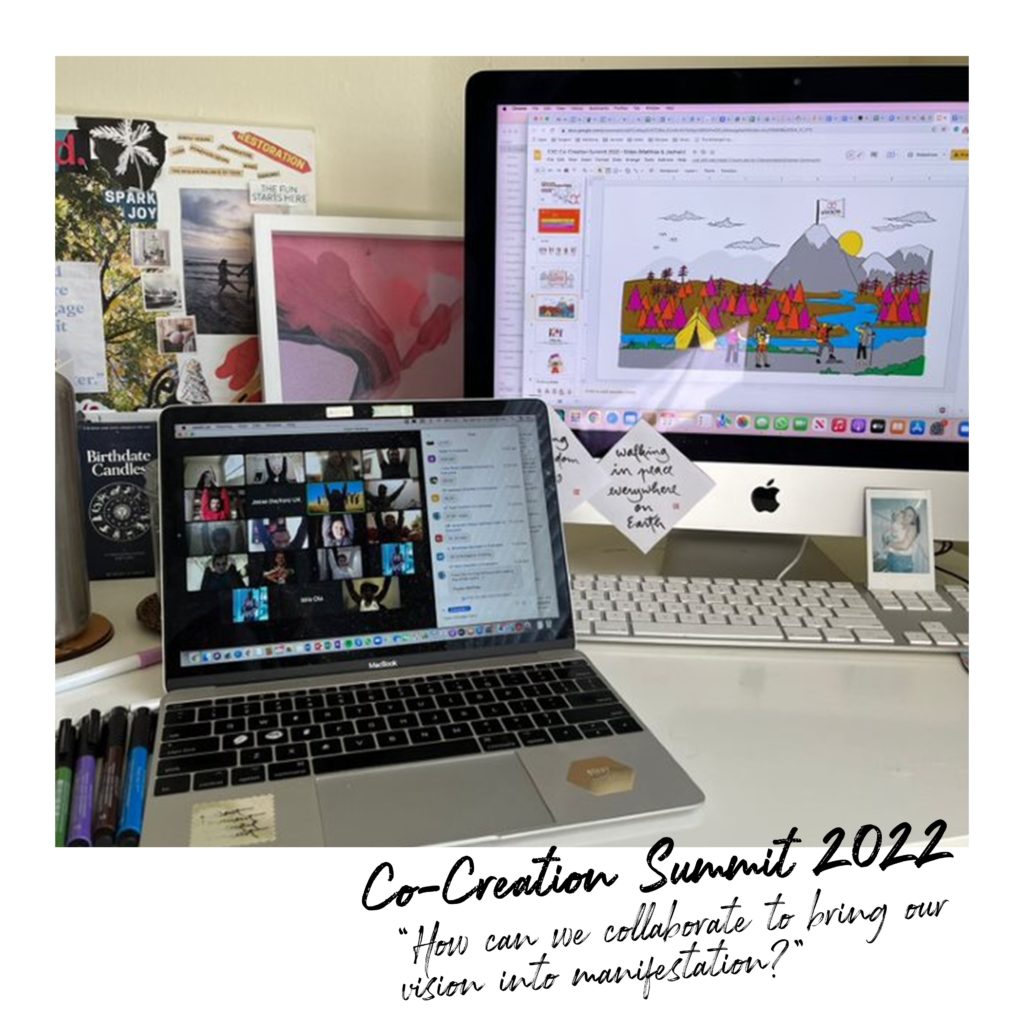 This year, 60+ community members from different parts of the world participated to brainstorm on how to collaborate to bring our vision into manifestation. We came up with several ideas, some of which have been executed and are mentioned below.
Secret Buddies | Wellbeing & Burnout Edition
Since 2021, we have run a special activity to foster connection amongst our community members, 'Secret Buddies'. It brings together members in pairs from across the world whilst maintaining anonymity. Over 100 people have participated, and many describe it as a truly unique experience of developing a genuine connection with another human being who has no judgments, no prior knowledge, no emotional baggage with them, and vice-versa.
This year, we ran a special edition: Wellbeing & Burnout edition, allowing the participants to reflect on the root causes of burnout and practice ways to boost their wellbeing.
On a similar note, perhaps you're looking for some resources on wellbeing or other resources related to our new way of working (which we're really proud of!), we collect some of the best knowledge, processes, and toolkits we have built over the years in one page—see the link below! We hope it will help you in your changemaking journey.
June 2022 marked the 10-year anniversary of ChangemakerXchange and we celebrated it in style with ±20 events, gatherings, workshops, dinners, and parties hosted by our members from across the world.
From Hanoi to Harare, from Luxembourg to Los Angeles–our community members hosted meet-ups, bringing our vision 'a world where everyone is part of inclusive communities where people connect deeply and co-create positive action' to life.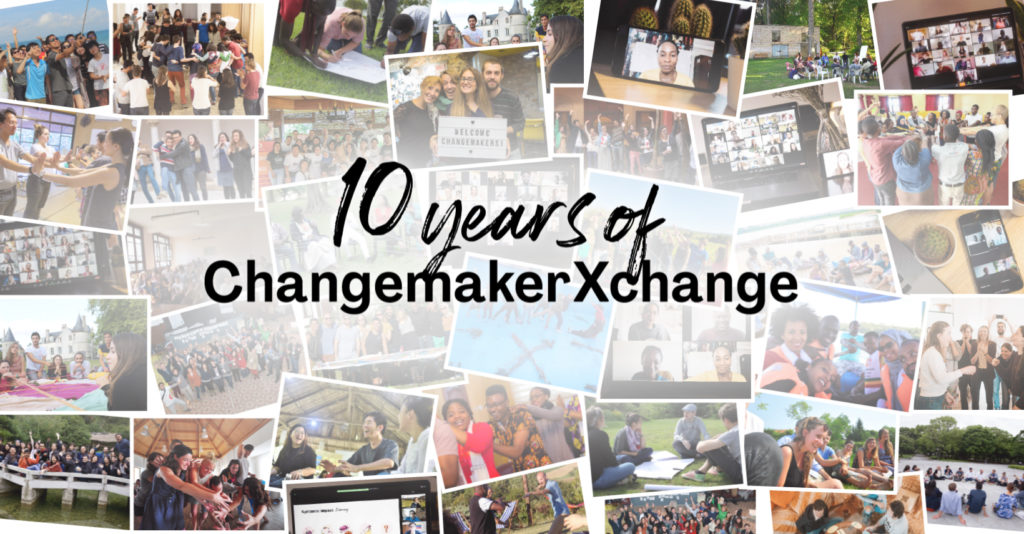 KnowledgeXchange is a diverse and high-quality inventory of many interactive capacity-building workshops that matches the key needs of young changemakers today, which were surfaced in The Possibilists study. Each workshop is facilitated by and for our community members.
This year, we brought the KnowledgeXchange to the next level, engaging over 100 community members through 16 sessions! They are a mix of capacity-building sessions (storytelling, community building, leadership development, income generation, and more) and more wellbeing-oriented sessions (guided meditation, unpacking our relationship to money, a 'walk-shop' to reconnect to the present).
On this note, whenever possible, we share the takeaway from our community internal sessions on our social media for all changemakers out there. Make sure to follow us at @cmxchange to keep updated!
Changemakers for the Planet
This year, we committed to doing even more for the climate and to address the planetary crisis. Supported by our partners Fondazione Cariplo, Antonis Schwarz, Robert Bosch Stiftung and SAP (MENA & North America), we kicked off three regional climate action programmes starting with summits in Europe for environmental activists and entrepreneurs, MENA alongside #COP27, and North America for women climate changemakers.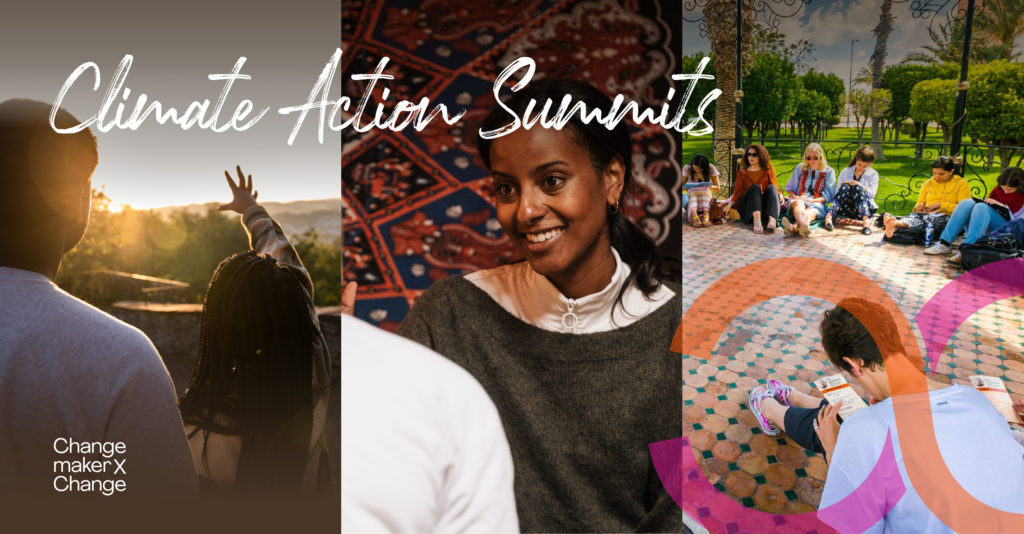 After in-person summits in each region, participants have been taking part in an online capacity-building programme '🌿KnowledgeXchange', where climate changemakers from across the world get the opportunity to connect with one another and reflect on the essentials of changemaking, starting with new work and wellbeing.
We're also very excited to announce more regional programmes in 2023 coming up in Africa & Latin America, Europe and MENA (supported by Apple and SAP).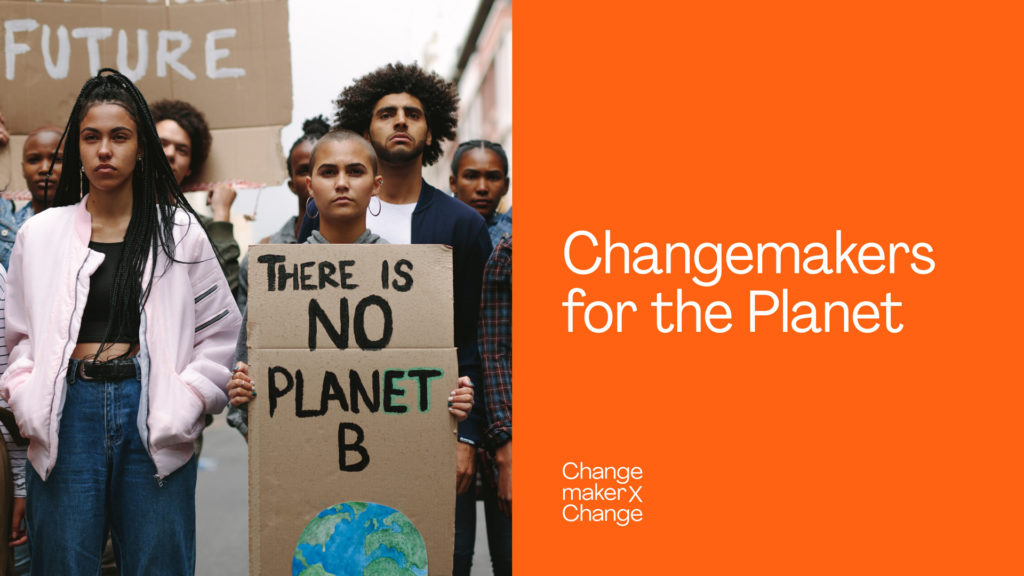 Watch this space for updates and get in touch for potential partnerships in Asia and Australasia!
Embark on our DEI journey
Another exciting thing happening at ChangemakerXchange is the new commitment we've made on the topic of diversity, equity, and inclusion (DEI).
The importance of DEI resonates with our own findings from The Possibilists study, which shows that young social innovators who identify as being marginalised face even bigger barriers and struggles in achieving their impact. These include being at a higher risk of burnout and having less personal financial security.
We also acknowledge how DEI work is a necessary prerequisite for the fulfillment of our CXC vision itself. Deep connections and co-creation do not happen without people feeling included and thus belonging.
In our upcoming Co-Creation Summit, we are going to center DEI as we embark on our journey to deepen our understanding of this topic while aiming to ultimately become a DEI leader in the sector.
Watch this space for more news as we will certainly share more in the coming months!
Pillar 2: Facilitators for Change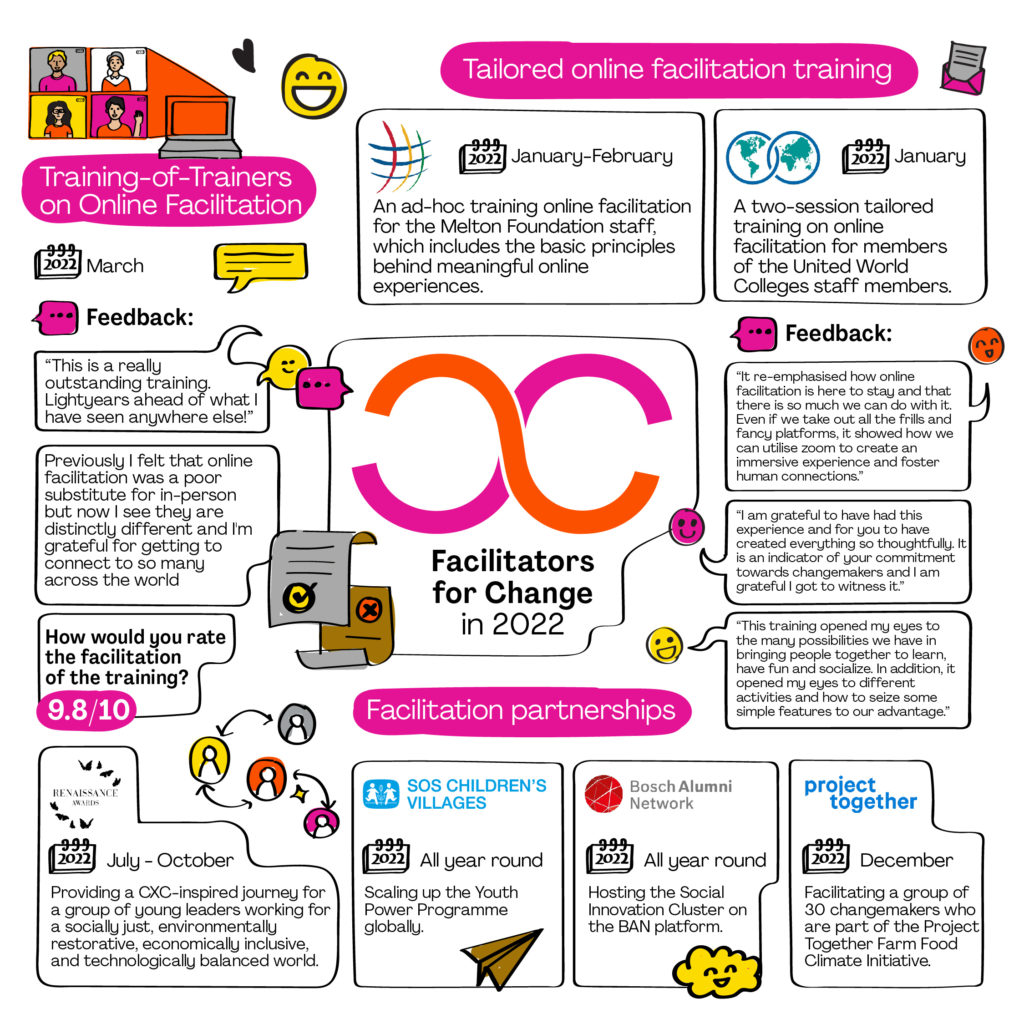 Online Training-of-Trainers for the ecosystem
Besides being a global community of changemakers, ChangemakerXchange is also a laboratory for innovative and participatory facilitation methodologies and practices. In March 2022, we took 18 participants through our renowned training on "Creating Transformative Experiences Online", sharing our years of knowledge and expertise in hosting dynamic and engaging online spaces.
If you're curious to know more about our Training-of-Trainers, do visit our dedicated page through the link below. And if you're keen to participate in the upcoming training, don't forget to join the waitlist.
Tailored Training on Online facilitation
Early this year, we offered a two-session tailored training on online facilitation for 15 members of the United World Colleges staff members. We also led a training in online facilitation for the Melton Foundation staff, which introduced them to the basic principles behind meaningful online experiences.
Either you are part of a community of changemakers, entrepreneurs, or activists and want to create deeper connections and foster co-creation and collaboration, or you need facilitation training that is tailored to your particular context, you can always reach out to us, we're more than happy to explore options that we can offer for you.
Facilitation Partnerships
2022 was also a fruitful year filled with a number of facilitation partnerships for ChangemakerXchange.
Throughout the year, we have supported the SOS Children Villages global team to scale their Youth Power Programme globally. This included a train the trainer on facilitation and convening for young changemakers, the creation of hosting and facilitation toolkits, as well as facilitating the Asia region's online summits, alongside five members of our CXC facilitation pool!
Under our partnership with Bosch Alumni Network (BAN) and their International Alumni Center, ChangemakerXchange has been hosting the Social Innovation Cluster on the BAN platform. In the past year, we've run capacity-building sessions, like fireside chats with a thought leader in regenerative culture, co-designed and facilitated a 3 part series responding to the impact of the outbreak of war in Europe. We are also in the process of building a toolkit on social innovation for the platform. (We'll keep you posted!)
In October 2022, CXC travelled to Florence, the heart of the Renaissance, to create a ChangemakerXchange-inspired journey for a group of young leaders working for a socially just, environmentally restorative, economically inclusive, and technologically balanced world. Watch this brief video to get a glimpse of the summit.
Last but not least, just a few days ago, we facilitated a group of 30 changemakers who are part of the Project Together Farm Food Climate Initiative. It is the second time we supported Project Together with their facilitation so we were happy to have been invited back!
If you are interested to learn more about our past and current facilitation projects and partnerships, or simply want to get to know more about our amazing facilitators and their work, then do visit our dedicated page through the link below.
Pillar 3: The Possibilists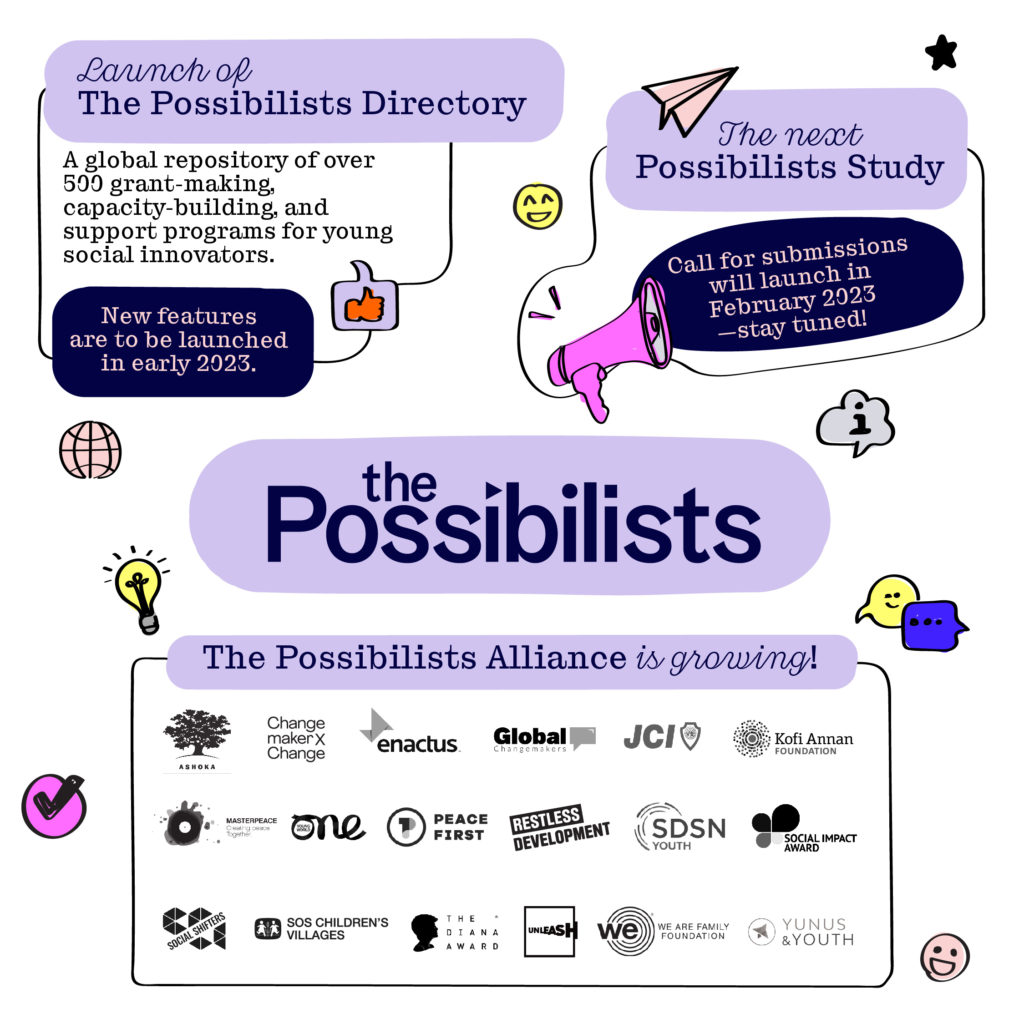 The Possibilists Alliance is growing!
The Possibilist study was first conducted in 2021 by an alliance of 16 of the world's leading youth social innovation networks. Now we're so excited to share that the Possibilists Alliance keeps growing and that we're now 18 global networks who have joined forces to help young changemakers thrive.
This alliance has a combined total reach of thousands of young changemakers, activists, and startup social entrepreneurs globally. It includes Ashoka, ChangemakerXchange, Enactus, Global Changemakers, Kofi Annan Foundation / Extremely Together, Junior Chamber International, MasterPeace, One Young World, Peace First, Restless Development, SDSN Youth, Social Impact Award, Social Shifters, SOS Children's Villages, The Diana Award, Unleash, We Are Family Foundation, and Yunus & Youth.
If you're interested to be involved, we would like to invite you first to visit our interactive website through the link below.
Launch of The Possibilists Directory
In May 2022, during the ChangeNOW summit, we launched "The Possibilists Directory", a global repository of over 500 grant-making, capacity building and support programs for young social innovators. It is freely accessible for young changemakers at thepossibilists.org/directory. The site is currently in BETA mode with new features to be launched in early 2023.
The Possibilists ultimately aspires to improve the conditions for young changemakers to thrive and deepen and scale their impact. The Possibilists Directory is the first tangible manifestation of that ambition.
The next Possibilists Study
And finally, the Possibilists Alliance has officially decided to turn the Possibilists study into a bi-annual survey and report. The next call for submissions will launch in February 2023, so stay tuned!
We also aim to update our social media more regularly in the coming months with more information from the study and offers and opportunities for changemakers. Make sure to follow The Possibilists on social media so you will stay updated.
Thank you for reading this far!
And thank you so much for all of your support! We look forward to another impactful and meaningful year in 2023. And we wish everyone a wonderful new year.

– Your ChangemakerXchange Team