Recent advancements in technology and communications have pulled the East and the West closer than ever before. However, when it comes to sex, the social gap between Asians and Westerners has not really narrowed.
Relationships and sex may cross one's mind at one time or another, and Westerners may be more likely to engage in open conversation on these topics. Yet, in Asia, talking about sex is often considered a taboo. Discussion about "the birds and the bees" are often passed over in Asia, and some children have no idea how they came to be on earth. For younger generations, whether in class or at home, Asian students often feel uncomfortable bringing up these "naughty" topics, not to mention related issues such as sexual health. Instead, most are self-taught, hearing and learning everything about sex through the only available means: movies and the Internet; it is not surprising that many find the subject of sex embarrassing and may never feel comfortable asking how to do "it" safely. Since a proper sex education is rarely implemented in Asian school curriculums, young people often have limited access to studying sexual health comprehensively. Consequently, they are at higher risk of suffering from unplanned pregnancies, sexually transmitted diseases (STDs), and other serious repercussions.
Young Asians are in desperate need of spaces that encourage the ethos of "Let's talk about sex". In order to address this issue, particularly in Hong Kong, Samuel Galler, and his co-founder, Julia Sun, came up with Sticky Rice Love (糖不甩), a friendly platform designed to improve physical, mental, and emotional dimensions of sexual health, sexuality, and relationship education for young people in Asia.
Having a strong passion for language, culture, and social science in China, Sam successfully graduated with a joint BA and MA from Harvard in East Asian Studies and a minor in Global Health & Health Policy. He is now a Ph.D. student majoring in International Development at Oxford University, which involved extensive fieldwork in China to study different Chinese HIV/AIDS organizations. While doing this research, he went to Hong Kong to do a related project on HIV rapid testing provision. He interviewed a lot of key stakeholders involved in HIV prevention to understand how their local knowledge influenced their perspective on HIV.
Through his research, he found that in Hong Kong, a lack of sex education was a major barrier to people taking advantage of available resources such as free HIV testing and counseling. In addition, he spoke with a number of experts on science education and education policy in Hong Kong universities and secondary schools. From these conversations, he discovered that there were many obstacles to delivering sexual health education officially within high school and middle school settings. Biology teachers were often uncomfortable talking about sexual health issues and were not trained to discuss these topics sensitively and effectively. The government requirements for sexual health were only recommendations, and as a result, most teachers tended to spend little time covering this information, since it was not a required part of the curriculum. Many parents may think that not teaching children about sex means they will not have sex and nothing will happen. However, in reality, not teaching children about sex means they are more likely to have unsafe sex or make poorly informed decisions.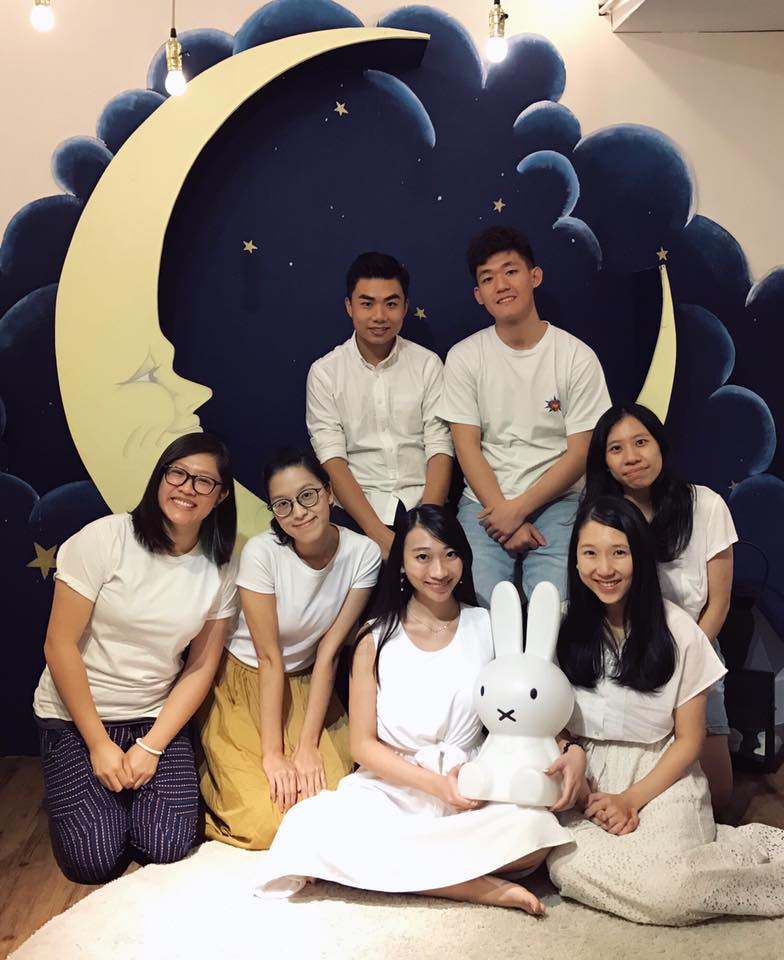 Sam met a number of people in Hong Kong who were interested in his project and decided to build an organization that can address this issue. Through a social enterprise co-working space called The Good Lab, which encouraged entrepreneurs to meet, work and collaborate through different meetups and networking events, he met Julia, who was already conducting her own sexual health education project as well. They had a lot of overlap in terms of project ideas, so they soon figured out how they could work together. Thus, in late December 2013, Sticky Rice Love (糖不甩)  was born.
Sticky Rice Love (糖不甩) concentrates on sexual health education for young people in Hong Kong with the model based on the idea that they can crowdsource different ideas from young people to improve sexual education. This organization's name refers to a Chinese sweet dumplings dessert, 糖不甩, and it suggests that talking about sex can be fun and should be as common as talking about food or dessert. Sticky Rice Love is known to be an open and healthy platform, letting people feel free to talk about sex in a non-judgmental and safe atmosphere. Its main aim is to enhance young people in Hong Kong's sexual health knowledge covering relationships, puberty, contraception, sexual diversity, decision-making, communication, etc.
Sam and Julia were able to build the team and brought it to Make a Difference, an annual conference in Hong Kong for social projects, enterprises and charity work for young people. They received a lot of feedback on what they were doing and eventually settled on a number of different features that they wanted to build into their organization and website. Their website, stickyricelove.com, launched before Sam left Hong Kong. Sam and Julia worked on basic branding and held a small focus group with representatives from 7 out of the 8 main Universities in Hong Kong. The group provided feedback that would be used to improve and guide their project. Since then, they have moved in a number of different directions and maintained good relationships with a lot of organizations that they had already made contact with very early on. They received initial funding from the Magdalen College Trust and the UnLtd Foundation HK and gained access to professionals for consulting, training, and linking to other key stakeholders. After Sam left Hong Kong, he served as a mentor and assisted in fundraising, while the other co-founder and director of the organization, Julia, managed all of the organisation's operations including marketing, recruitment, training, and strategic planning. In the first six months, they had a rough start and nearly gave up several times, but they ultimately persevered, growing and training more than 40 volunteers. These volunteers are regularly involved in different activities such as school workshops, public events, where people can talk and share their experiences, film collaborations with sexual health relevant films or sexuality, and open events for discussing important topics related to sexual health. They also have developed partnerships with other local businesses and charities that have generously supported their work.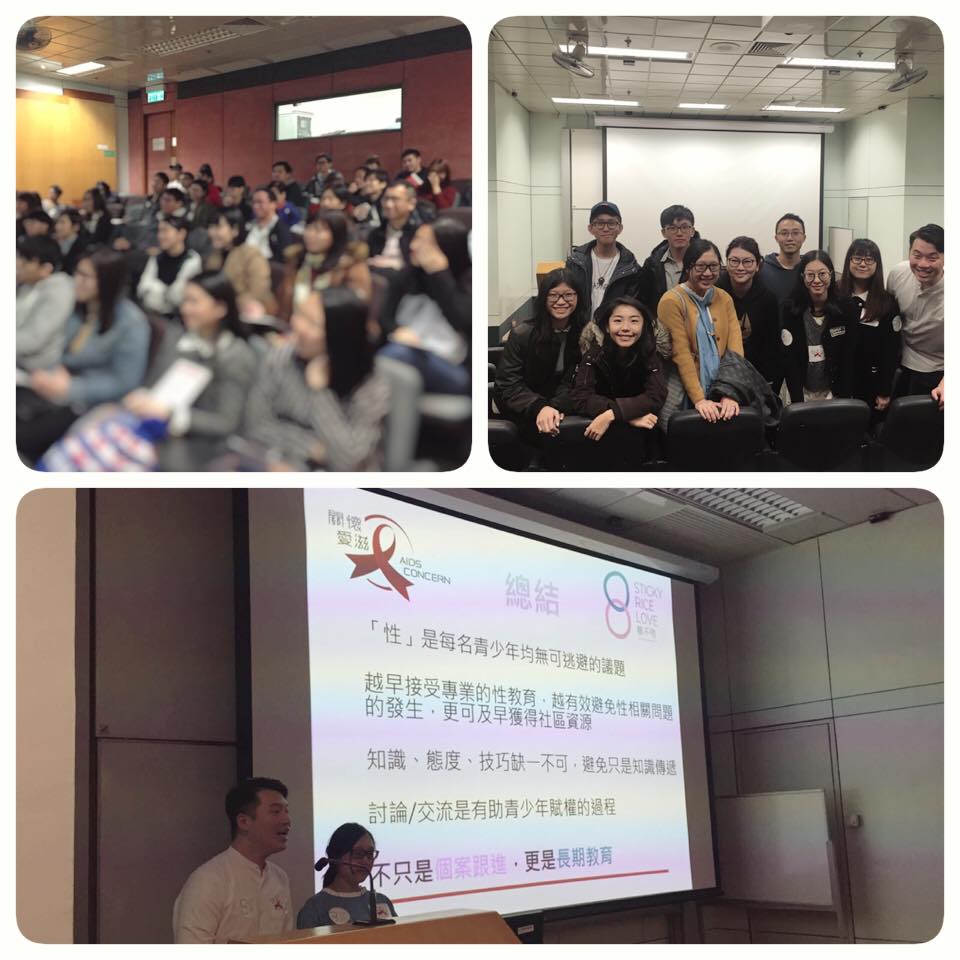 Sticky Rice Love has many online platforms that emphasise youth empowerment in topics related to sexual health, sexuality, and relationships. Their services include active Facebook and Instagram pages, as well as a forum and an anonymous question box service. These allow individuals to ask questions anonymously, and their organisation helps to provide support and link individuals to relevant professional services. Sam said, "There are many questions that we cannot answer. But we try to give people as much information as we can. We try to give them a decision-making framework so that they can make their own decisions. Some situations are really hard. We try to provide key skills and information that can support people to make positive decisions about what they are doing that will support their health while making them feel confident and good about what they are doing. We recognise that real-life situations can be very complicated." Many questions they receive are just not 'Googleable' and have to be resolved through extensive two-way conversations. Hence, Sticky Rice Love (糖不甩) is a very good solution to this. People feel comfortable engaging with the organisation's social media pages, email account, and other messaging applications to talk about sex and relationship openly.
In sum, relationships, sexuality, sexual desire, and physical curiosity are all natural phenomena everyone has in their life. The premise of sex education is not just to offer lessons on safe sex practices and condom use, but also to provide an ultimate guide for students to understand themselves, gain more confidence in developing healthy lifestyles, and engage in healthy relationships with other important people in their lives.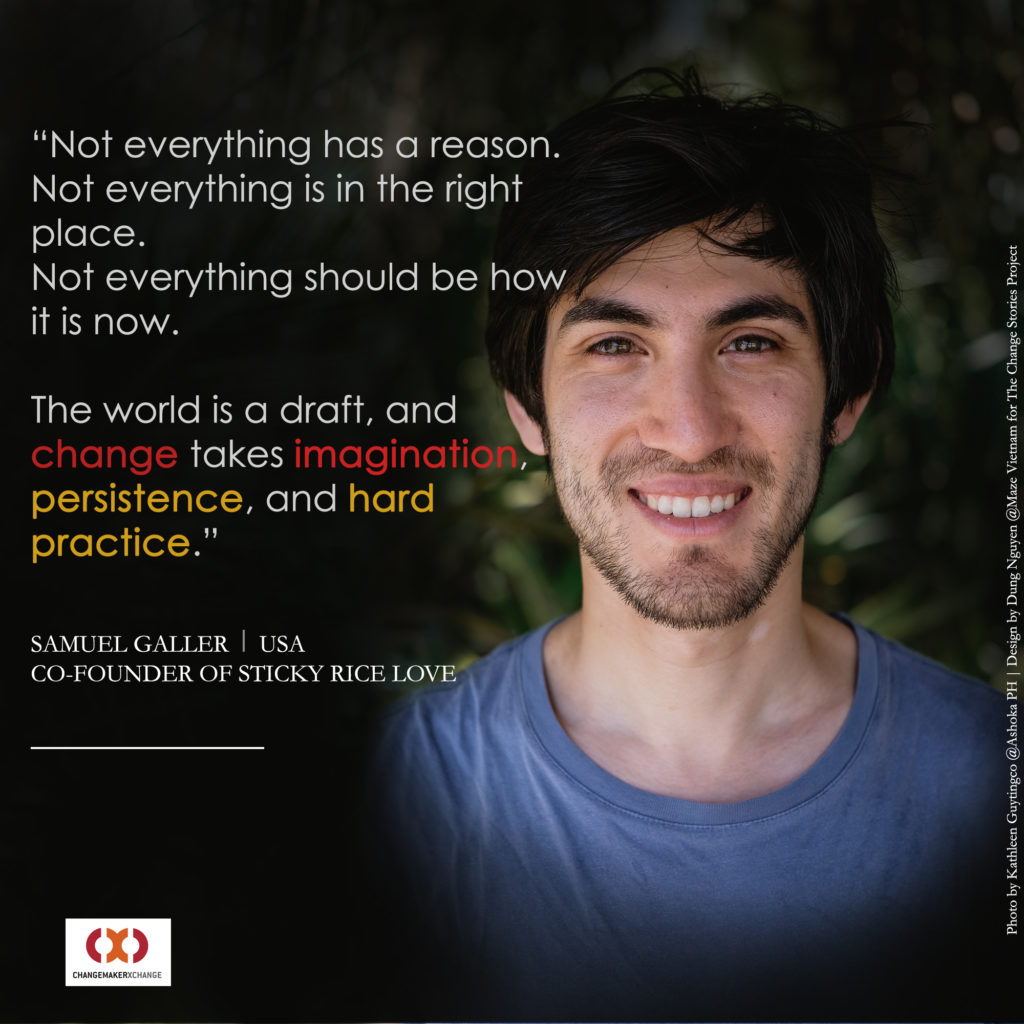 ---
Story written by Chi Le @Maze Vietnam for The Change Stories Project
The Change Stories is a cross-border collaboration project co-created by Maze Vietnam from Vietnam and The Optimist Citizen from India. We cover multi-media stories of the world's top social innovators in ChangemakerXchange summit with an ultimate mission of inspiring people from across the world to become changemakers, together creating positive changes and making the world a better place.