The music game has never been easy on its new players, especially in a market so dominated by one genre like South Korea. Indeed, many budding independent artists have succumbed to the power of the massive K-pop wave, but there is a man determined to turn the tide. Hyojun Shin, a 29-year-old Law graduate, turned into a music entrepreneur and founded  Crowdticket.kr in Seoul, dedicating the last two years of his life to empower self-made musicians through various funding programs and social media campaigns. He is here now to share his experience with us.
"I was really crazy about rock music back then" – Hyojun smiles as he reminisces his years in high school. Young and free-minded back in 2004, he was part of his school's rock band while fostering the dream of becoming a musician one day. Before he could pursue his goal, however, reality hit hard. His parents refused to send him to the art school for its high cost and low career prospect. "And just like that I gave up on my dream," he confessed.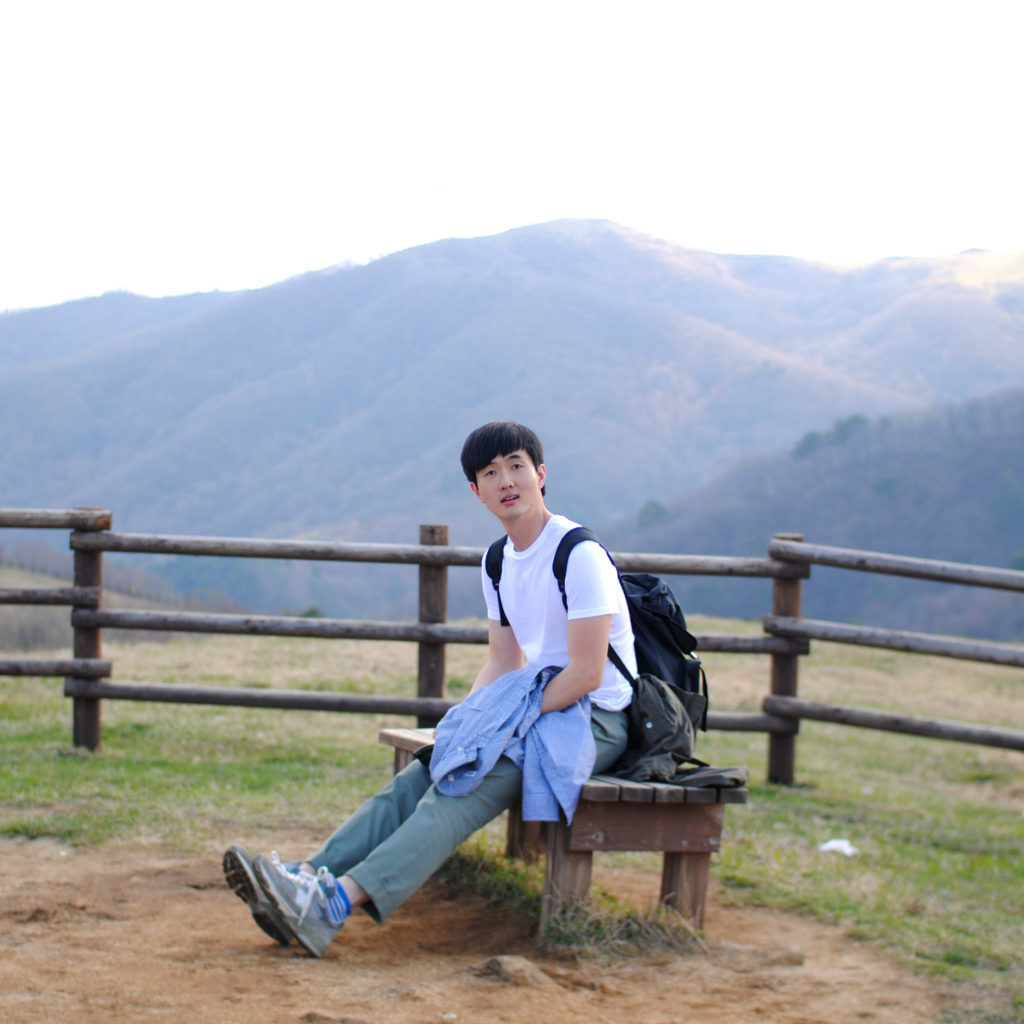 Living up to his parents' expectations, Hyojun attended Dankook University, majoring in Law. The degree helped him secure a well-paid job in the Law department of a construction company. However, the perks of an affluent life could not quite fill in the gap left behind by his teenage dreams. In his own bold words, Hyojun admitted that not pursuing his dream to the very end made him "feel like a loser".
For a few years, while staying in touch with his artist friends, Hyojun had become aware of the difficulties faced by artists. "I knew a lot of good musicians who had to work in restaurants during the day to afford to perform at night for little or no money," he said. It was extremely hard for promising independent artists – under the influence of the K-wave – to get by thanks to their own talent.  Compelled to improve the outlook for such musicians, he set up a small project that would later become Crowdticket as it is known today.
What exactly is Crowdticket and how does it work? In a nutshell, Crowdticket is a medium to connect artists with a potential audience, along with helping them with fundraising and promoting their names on social channels. This includes features such as running a fundraising campaign, providing venues for concerts, designing tickets and souvenirs; and offering advertising on social media networks like Facebook and Instagram.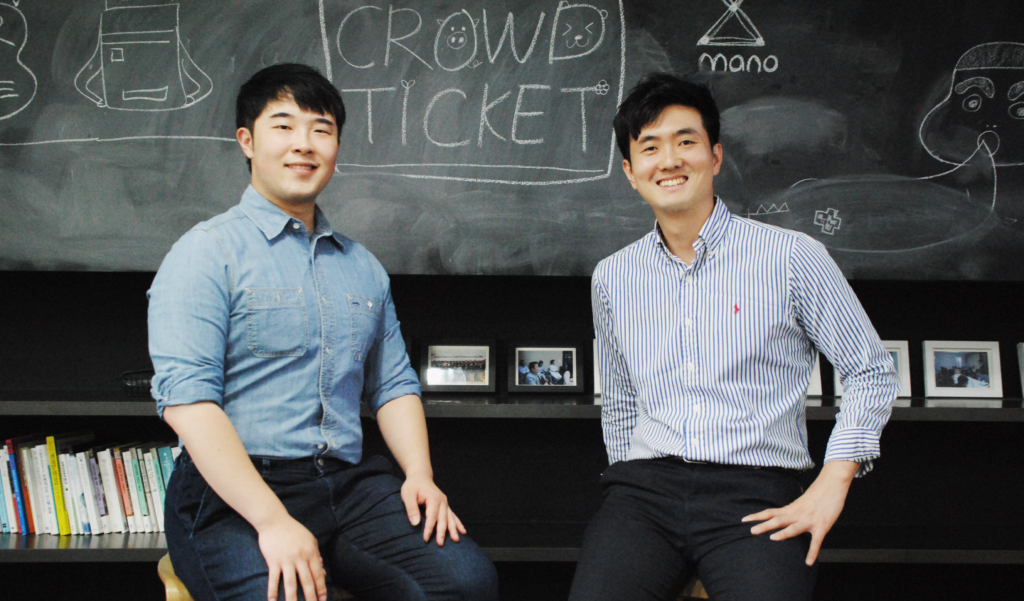 Building the foundation for such an ambitious idea proved difficult. After quitting his job, Hyojun sought financial backing and then spent the following six months building the web platform with his friend who works as a software developer. By February last year, the beta version of the service launched and to his delight, it was a great success. Funding for the project began to flow in, and with that much progress made, the prospect of this business became ever so clearer to Hyojun and his team.
Finally, in June 2016, Crowdticket.kr went live. Since then, it has been supporting 70 projects for independent artists specializing in classic, hip hop and indie music, alongside small plays and musicals, at an astonishing rate of 6-7 projects per month. These shows are normally coordinated by Hyojun's team, but it is the contributing musicians that decide the content.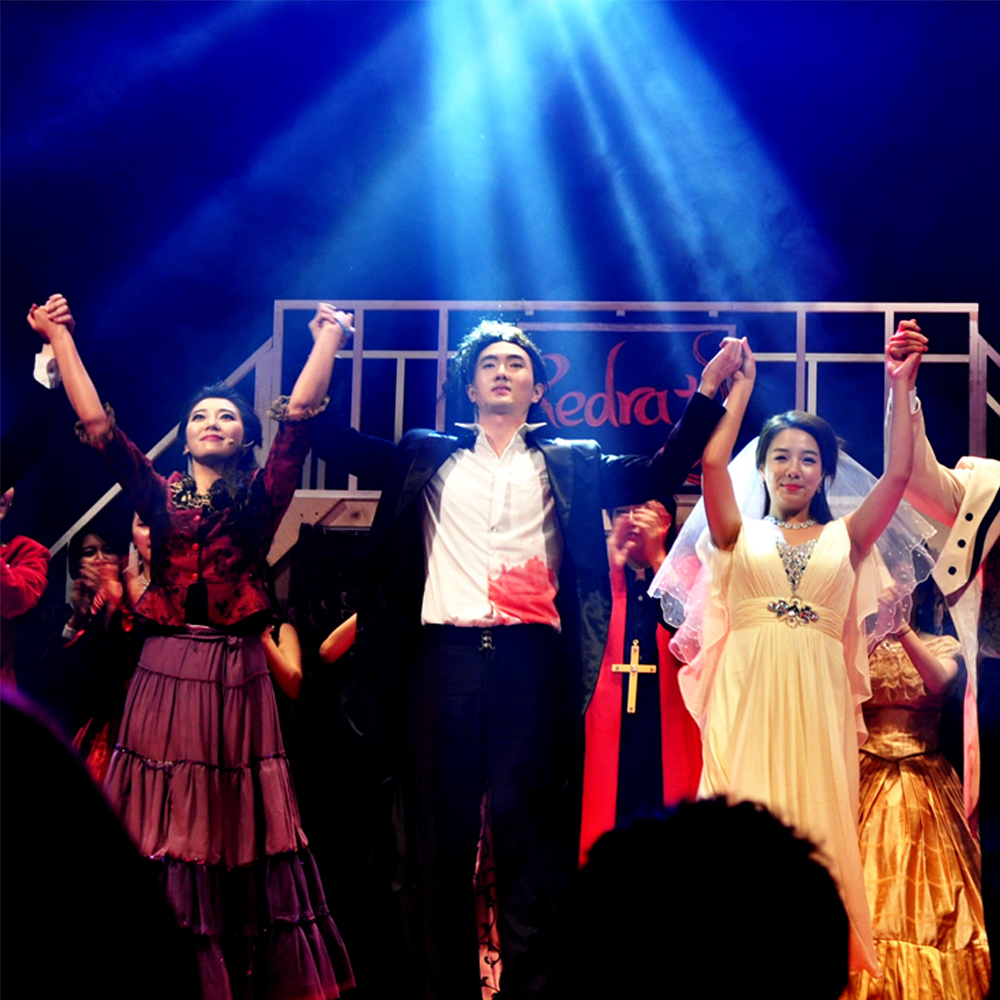 The website has been fairly victorious in its activities, mainly thanks to all effective advertising and the consistency of the shows. There have been bumps along the ride as well, such as an unfruitful crowdfunding effort in the city of Busan, where few people were willing to invest. As it turns out, supporting up independent artists was not everybody's cup of tea, especially through a newborn crowdfunding platform like Crowdticket, and this is what Hyojun considers to be one of the largest obstacles to the growth of his business – to accommodate different views on their project and to make themselves and their goals clear to the targeted market.
Having been in operation for over a year, Crowdticket has had a number of parallels drawn between itself and other crowdfunding pages like the international Kickstarter or Korea's well-known funding platform – Tumblbug. Crowdticket's founder, however, is confident that his platform is unique. He considers Crowdticket to be a more artist-oriented platform, catering exclusively for the needs of Koreans and most importantly, it not only provides funding, but also aids the artist in establishing  themselves on various genres of social media to appeal to a bigger audience, thereby gaining more ticket sales to back their event.
What's more, Hyojun claims his ticket-funding model helps build a connection between the audience and the performers before the latter appear on stage. On the one hand, the ticket buyer feels good knowing they played a part in making it happen, that they are directly supporting the artists they come to see. On the other hand, the artists will play to their best because they are performing for the people who made their performance possible. This mutually supportive relationship, in Hyojun's opinion, can create a whole new experience for both parties involved.
Nowadays, Crowdticket is reaching out to a higher level after striking gold upon inauguration. Recently, it won the Korean government's competition for startup projects, receiving a grant award of $45000. With this reward, Hyojun plans to take the service to another level by hiring new staff and employing new marketing strategies on and offline. He is also planning to diversify its activity into the realm of fine arts exhibitions in the future.
Looking back, Hyojun Shin is still humbled by what he was able to accomplish in such a short amount of time. "It was scary. When I quit my job, I was 26, and all my closest friends were already making a lot of money and even preparing for their marriages. I had to start over from the very bottom," he added, "As I achieved bigger things, I became more and more confident. It turned out how other people lived didn't really matter. You just need to focus on your dream." Indeed, it is truly amazing how far dreams can take people and how a simple idea, when fueled with the right amount of determination and expertise, can grow into something so vast and meaningful.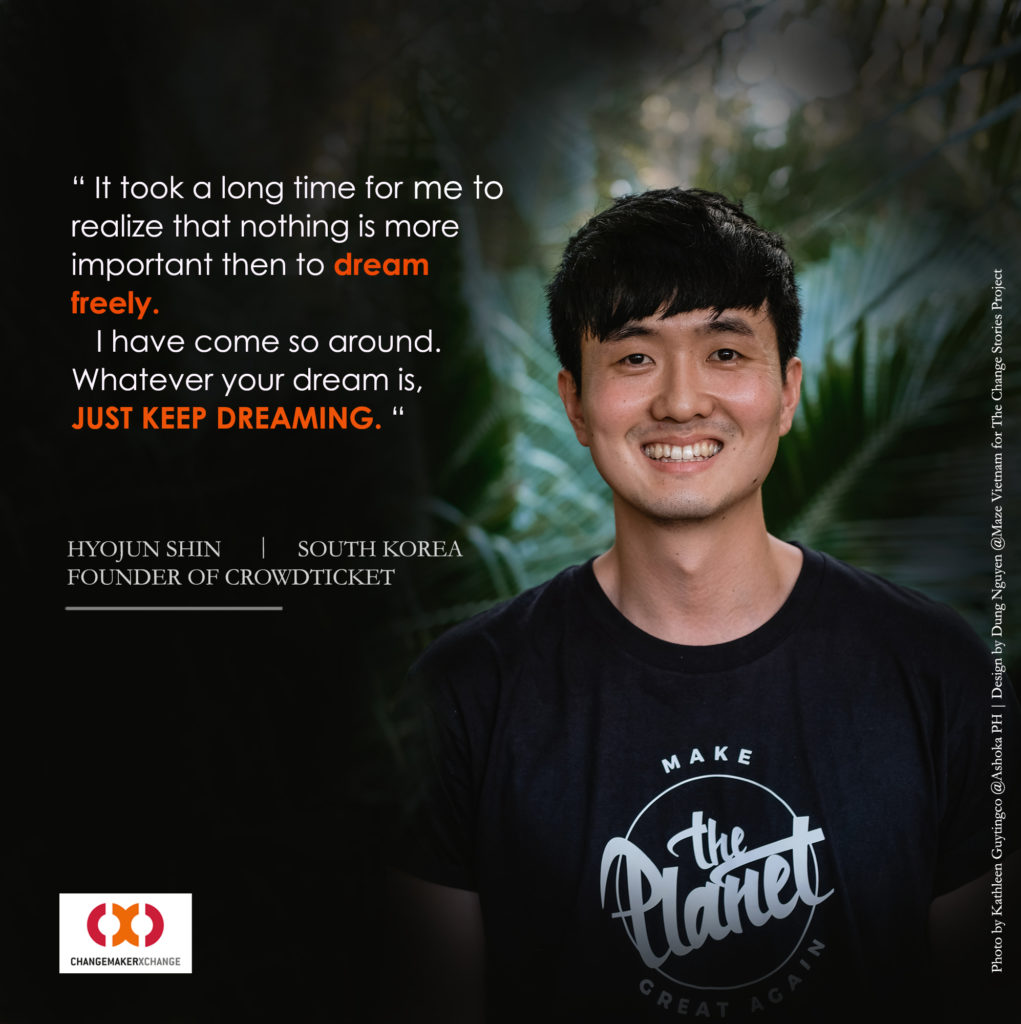 ---
Story written by Duy Nguyen @Maze Vietnam for The Change Stories Project
All photos shared by Hyojun Shin @Crowdticket
The Change Stories is a cross-border collaboration project co-created by Maze Vietnam from Vietnam and The Optimist Citizen from India. We cover multi-media stories of the world's top social innovators in ChangemakerXchange summit with an ultimate mission of inspiring people from across the world to become changemakers, together creating positive changes and making the world a better place.