The ChangemakerXchange community recently launched a new initiative, the CXC Book Club, which encourages continuous learning among our members through the reading of changemaking books. (Thanks to our member, Melissa, for initiating it!)
To kick it off, we chose Rob Hopkins' book, "From What Is to What If: Unleashing the Power of Imagination to Create the Future We Want". And we were so lucky to sit (virtually) with the author himself to discuss the book last week.
Rob Hopkins is an activist, a writer on environmental issues, and a true champion of the collective imagination. In his book, he shares stories of individuals and communities worldwide who are reclaiming and unleashing their collective imagination. And he invites us, changemakers, to do the same.
In our one-hour conversation, we talked about his writing process, personal takeaways, and some inquiries that he still has and will continue to investigate (second book spoiler alert!). Here are some key points that we would like to share with you.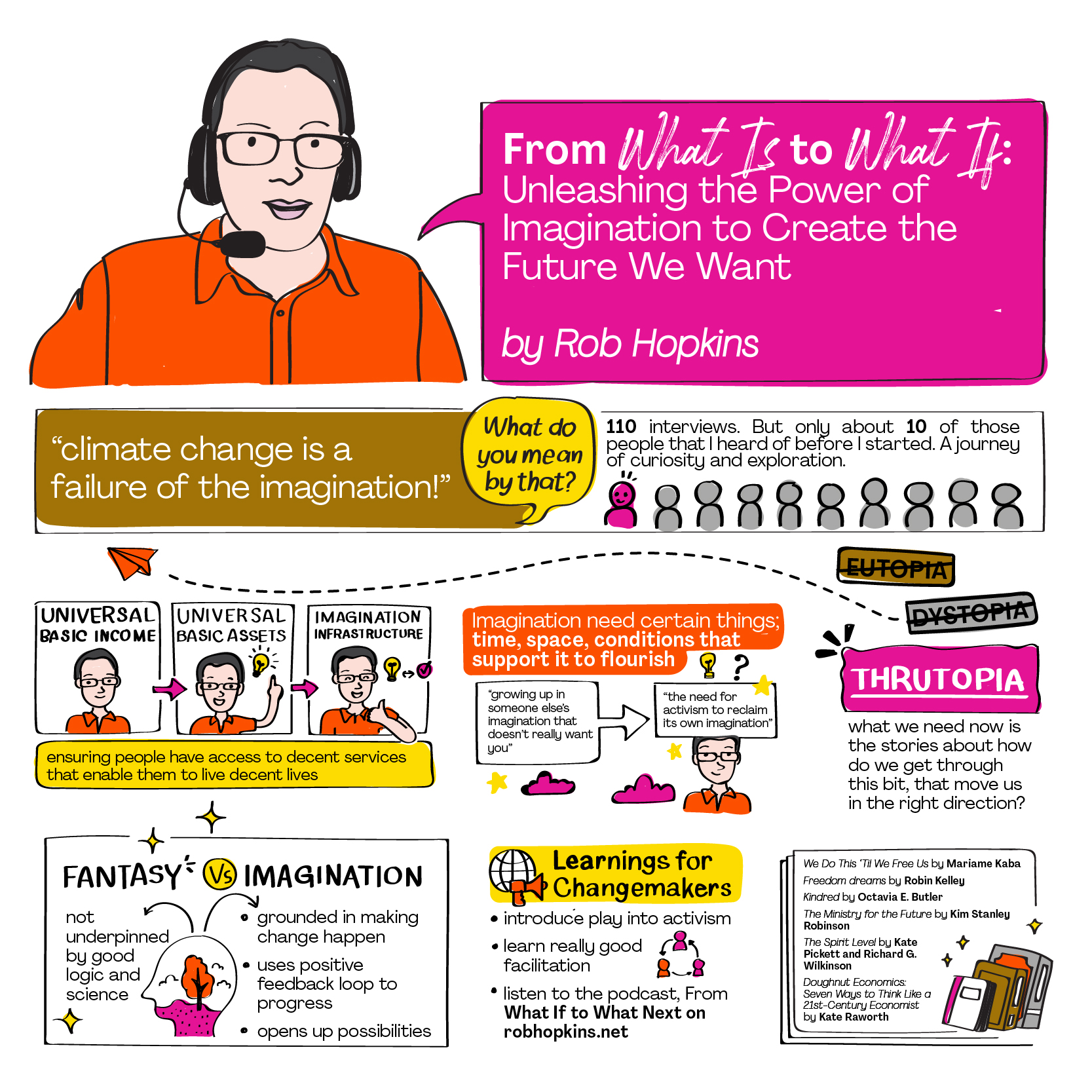 On the process of writing the book: 
I read some research which suggested that we had seen this sort of peak in imagination around the mid-90s, and that IQ had then kept rising, and imagination had then started to decline, and it's declined ever since. And I thought, "wow, when that was published, it was a big story in America, and people said, what does this mean for economic growth? What does this mean for Hollywood? But no one ever said what this means for climate change movements, social justice movements, etc." And so I just started collecting things and reading things, and then having conversations with people saying, I've got this idea of writing a book about imagination and the decline of imagination, and why we need to rebuild our collective imagination. Is that something anybody would want to read? Is that something that I should do? And everyone I spoke to said, "it's very interesting. Yes, that's a good idea." So, I guess I spent then a couple of years really doing all the research. (View on YouTube.)
On his own takeaway from writing the book:
I'm finding that there's a whole really interesting area of research around imagination that comes from radical black movements, black feminism, Afrofuturism, prison abolition movement. […] So, it always keeps leading me to lots of different things. The podcast has been a really nice opportunity to explore a lot of those things in more depth as well. So, it wasn't like I did the book, and then I was finished. The book was a kind of a snapshot of where I was at that point, in this process of inquiry, and this investigation, and it's continuing, ongoing, and becoming ever more fascinating to me. (View on YouTube.)
On learnings for changemakers: 
I think one of them is about trying to

 introduce play into activism

. What does our activism look like if it is more playful? 

 

I think there's something about 

learning really good facilitation

. There's a beautiful training that I did a couple of years ago called The Art of Invitation, which was a real "a-ha" moment for me… In their philosophy, they say the invitation is the most important thing. It's not just whoever comes in are the right people. Actually, you need to be really consciously making sure that the diversity of people you need to be there are there. And they're not going to just come if you stick up a poster. So, they say 40% of the time and energy of an event needs to go into the invitation and physically going and inviting people, and finding out what will get them there. 20% then goes into the event itself. And then the other 40% goes into digesting what happened—and then feeding that back to everybody who came in a way that's accessible to them. So that's something I find really useful. 

 

Listen to the podcast!  (robhopkins.net)
And lastly, his book recommendations: 
We Do This 'Til We Free Us

 by 

Mariame Kaba

 

Freedom dreams

 by 

Robin Kelley

 

Kindred

 by 

Octavia E. Butler

 

The Ministry for the Future

 by 

Kim Stanley Robinson

 

The Spirit Level

 by 

Kate Pickett and Richard G. Wilkinson

 

Doughnut Economics: Seven Ways to Think Like a 21st-Century Economist

 by 

Kate Raworth

 
We highly recommend reading Rob Hopkin's book, From What Is to What If: Unleashing the Power of Imagination to Create the Future We Want.
And if you are curious to know more, you can watch his TEDtalk or lecture, read an article by him, and listen to his podcast.