Finally, the long wait has come to an end! 🌟
We are calling young social innovators to participate in our transformative virtual ChangemakerXchange Summits in March 2021, and later join our global collaborative community.
Due to the current high caseload of COVID-19 in so many countries globally, the ongoing uncertainty over international travel and entry restrictions in many countries, we have decided that the first wave of summits in 2021 will be taking place online.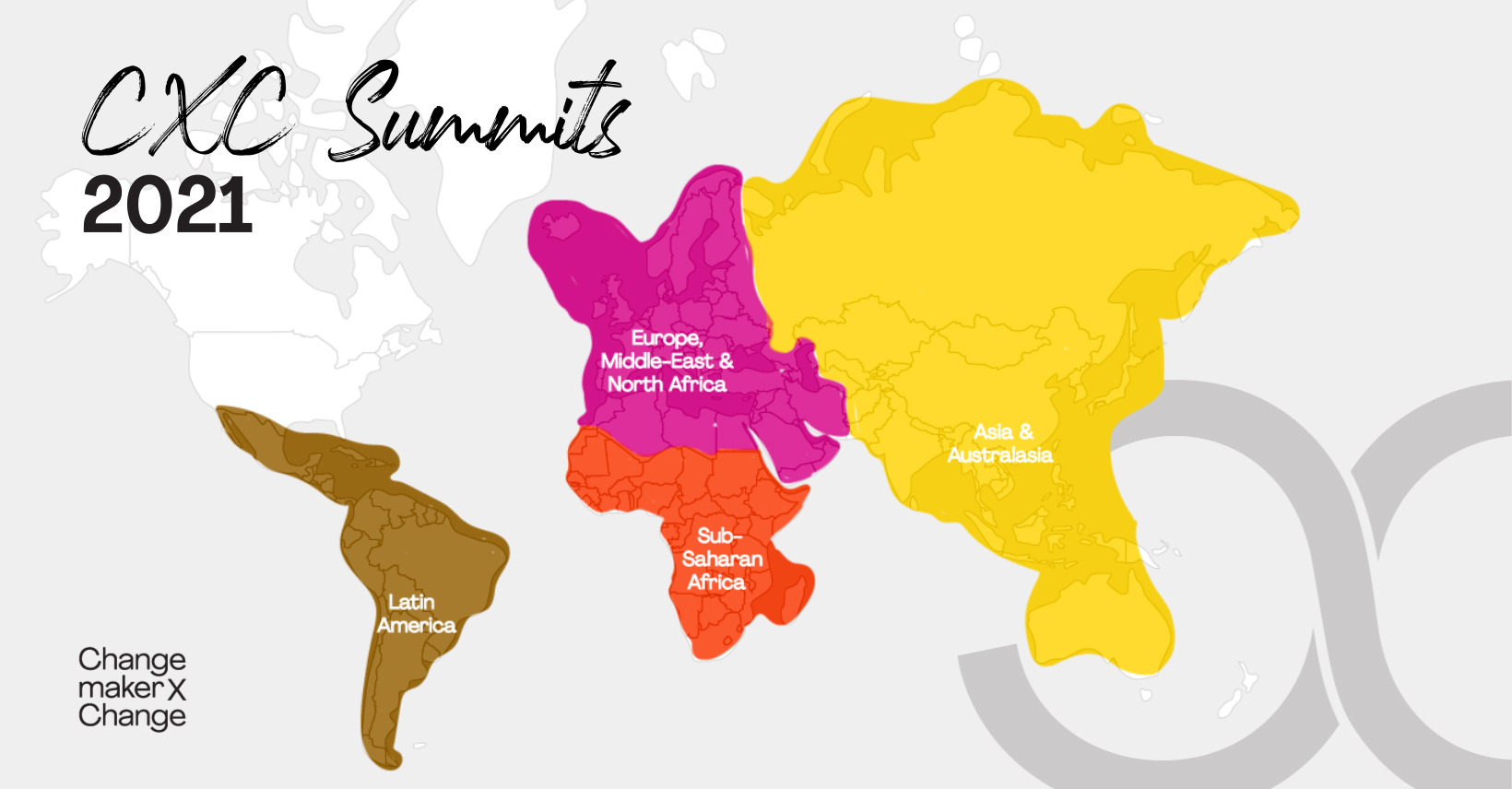 There will be four regional summits over the month, each open to 25 changemakers working across all social and environmental issues from each region (scroll down to apply and for more details).
Europe & MENA 

(

3

rd

 

– 5

th

 

and 8

th

 

–

 

9

th

 

March) 

Sub-Saharan Africa

 (

10

th

–

 

1

2

th

 

and 15

th

 

–

 

16

th

 

March)

Asia

 

&

 

Austral

asia

 (

17

th

 

– 19

th

 

and 22

nd

 

–

 

23

rd

 

March)

Latin America

 (

24

th

 

– 26

th

 

and 29

th

 

–

 

30

th

 

March)

 
Every summit will take place over 5 days for 3.5 hours per day. It will follow our tried and tested formula of deep human connections, peer learning and collaborative action.
We invite you to set aside any reservations about joining a virtual summit. The format will be dynamic and interactive and be led by facilitators from our community who have all completed our online facilitation training and who have founded established social ventures themselves.
This programme is supported by the Robert Bosch Stiftung. 
CRITERIA
As a general rule, we are looking for changemakers, social entrepreneurs, and social innovators, aged between 18 and 35, who run social ventures in the eligible countries.
Below is a list of the selection criteria. We also do our best to achieve representation across the gender spectrum, geographic and cultural diversity; diversity in terms of social venture, approach, age and skills.
KNOCK-OUT CRITERIA 
Country: 

Participants must come from or be currently living in one of the eligible countries for that particular summit. (If you do not see your country on the list of eligible countries for the region, or you feel it should belong in a different region please feel free to reach out to us at .)

Age:

 Participants must be aged 18-35.

Leading roles:

 Participants should lead or have founded a social venture which is up and running and addresses a social problem. We are open to "intrapreneurs" too.

Strong English: 

English is the language of these virtual summits, so participants must have a command of English which is strong enough to participate in small group conversations / present their work. Note on language: When we return to in-person summits we will likely continue to host certain summits in local languages depending on context.
ORGANISATIONAL CRITERIA 
Stage: 

The organisation should be beyond the idea stage and currently active.

Impact: 

The organisation should solve a social/environmental issue and have some impact.

Innovation:

 The organisation should show some elements of innovation for the specific context.
PERSONAL CRITERIA 
Values:

 The applicant should demonstrate an alignment with the CXC values.

Character: 

The applicant should show an entrepreneurial and creative mindset.

Motivation:

 The applicant should show motivation to co-create and collaborate.
PROCESS
8th January:

A

pplication

s 

O

pen

31st January (midnight GMT):

Applications 

C

lose

1st – 28th February:

Selection Process

 and Interview Period

12th – 28th February:

Announcement

of Results

3rd – 30th March:

CXC Summits 2021
We will reach out to accepted participants at a different stage, based on the order of the summits. Accepted participants will be kindly asked to make a modest 35 EURO contribution to ChangemakerXchange. (For those unable to make such contribution we will find a solution!)
PROGRAMME OVERVIEW
Every summit will take place over 5 days for 3.5 hours per day and the overview is as follows.
Day 1: Connecting & Bonding
Day 2: Wellbeing & Impact
Day 3: Peer-Learning & Sharing
Day 4: Collaboration & Co-Creation
Day 5: Celebrating & Closing
Optional activities on Saturday/Sunday
APPLY NOW
Do I need to be the original founder or co-founder?
No, we also welcome applications from changemakers, etc. who might have joined at a later stage. However, it is important that you are in a clearly defined leadership position. We unfortunately cannot accept applications from other employees or volunteers. 
Is there an interview as part of the selection process?
Given the high number of applications we receive and the limited staff capacity, only candidates who are being considered for the final shortlist will be invited to a short informal interview to ensure their suitability in the programme and their fit with the community. 
I did not receive a confirmation email after applying – how do I know if my application went through?
You will not receive a confirmation email after applying, but a thank-you message will pop up when you have submitted your application successfully. 
When will I hear back if I was selected?
We will get back to all applicants at different stages. Selected applicants will hear back at least 3 weeks before the start of their summit.  
Can I receive feedback on my application?
Unfortunately, we cannot provide individual feedback on each application. But we do send a thorough email to all applicants outlining the full application and selection process, which has always been appreciated by applicants in the past. 
Can my co-founder join instead of me?
ChangemakerXchange invests first and foremost in the person, aka you. In the event that you cannot attend the summit anymore, we unfortunately cannot accept your co-founder as there are other candidates who went through the whole application process and have been waitlisted. 
Can I join only part of the summit?
Unfortunately, no. The ChangemakerXchange summit is an intense and enriching experience that makes sense if undertaken from start to end. This means we can only accept applicants who can commit to the full duration of the summit. Also, we will only allow participants who have joined all sessions on all days into the ChangemakerXchange community.
What happens after the summit?
Attending a ChangemakerXchange summit is the first step to join a global community of 800+ changemakers. Once you are part of the community, there are several engagement opportunities you can benefit from, including: 
Becoming a community host and bring

ing

 the CXC summit experience to your 

country;

 

Joining the Global Facilitation Pool to facilitate CXC-like experiences to other 

changemakers

 around the 

world;

 

Expanding your network and deepening your knowledge and 

expertise

 thanks to 

our

 

member 

gatherings and online 

huddles;

 

Amplifying your impact through new collaboration projects with fellow changemakers;

 

Attending the Global Co-Creation Summit to shape the future of the community.

 
The beauty of ChangemakerXchange is that it is a very dynamic and constantly evolving community, continuously shaped by the needs and feedback of its members.  
What is the value of joining ChangemakerXchange?
We believe the words of our community do the best job of highlighting the value of joining ChangemakerXchange.
"I wanted to change the world for the better since I was 14. But everyone around me would tell me 'be normal, go to college, get a job, don't try to do more than you can'. After CXC, I realised that I don't want to have a 'normal' life. I want an extraordinary life. I want to fully realise my mission to paint the world in bright colours of peace, unity, and love. And ChangemakerXchange catalysed the process of realising my mission. Thank you!" 
"CXC is an incredible platform to change the mindset and perspective on many things (to the best of course). I can definitely say that I've been transformed, and I now have a much better understanding about what it takes to be a social entrepreneur, scaling impact and opening yourself to others." 
"CXC gave me a feeling of belonging. I have been part of many conferences and different communities, but CXC still feels like home because of the genuine values, the genuine goals and long-lasting friendships."