Apply now to join the CXC Community
Social innovators from across the world can join the ChangemakerXchange community via our summits. We follow this approach since our initiation in 2012 and do so to ensure our members have one common shared experience, which transcends their individual backgrounds and projects. They take place, on and offline, throughout the year in various regions. In case we currently do not run a gathering in your part of the world please sign up to our newsletter and follow us on social media to hear about new opportunities first.
Summits which will take place soon (Applications closed)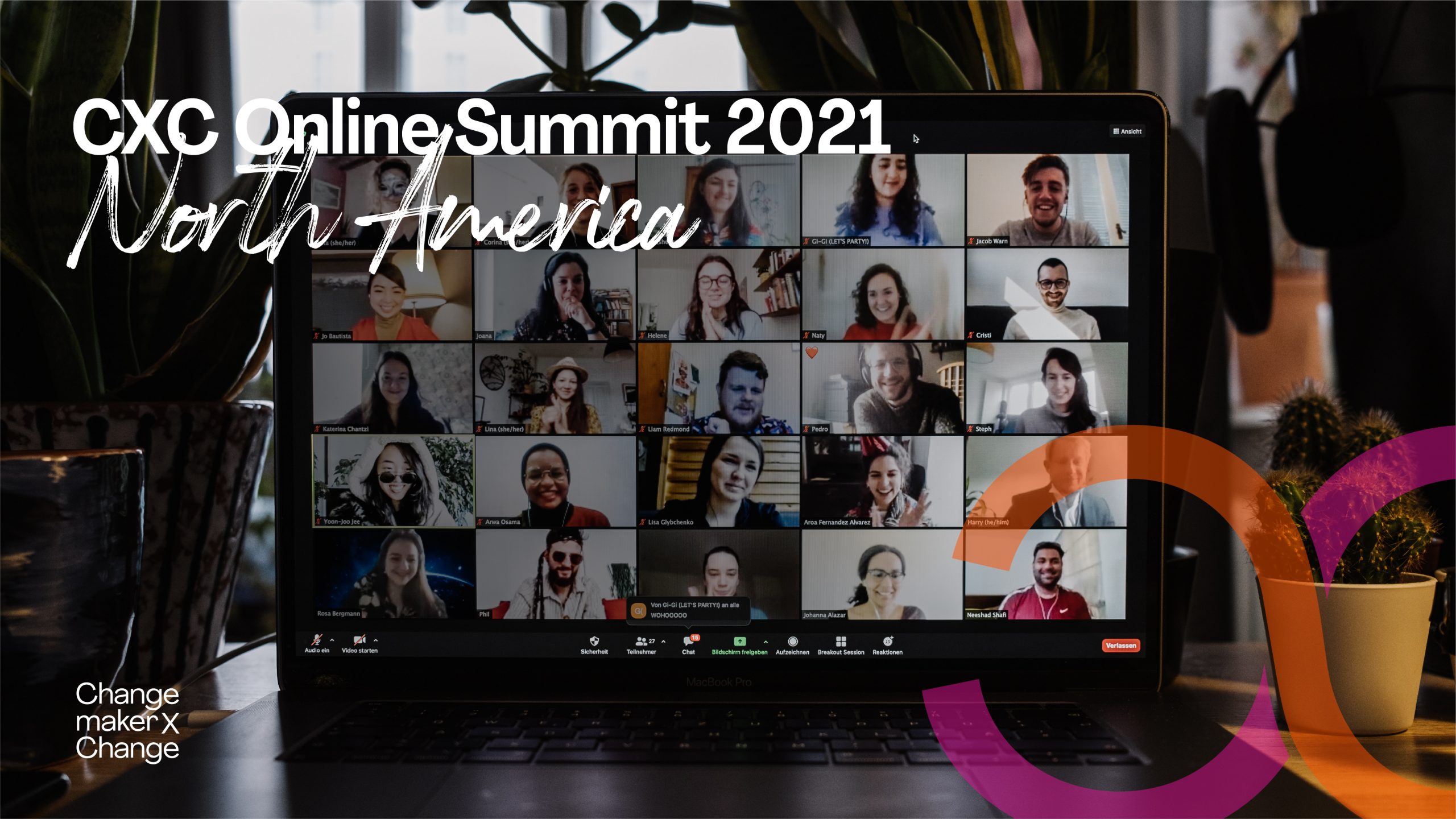 Become a founding member of ChangemakerXchange in North America:
ChangemakerXchange is calling on innovators from North America, including Central America and the Caribbean to participate in our very first online summit in the region. Participants are then also invited to become members of ChangemakerXchange, a global collaborative community of nearly 1000 social innovators from across the world.
We can't wait to welcome as many young social innovators from such diverse and inspiring regions of the world to our family.
CRITERIA
As a general rule, we are looking for changemakers, social entrepreneurs, and social innovators, aged between 18 and 35, who run social ventures in eligible countries. We also do our best to achieve representation across the gender spectrum, geographic and cultural diversity; diversity in terms of social venture, approach, age and skills.
Leading roles: Participants should lead or have founded a social venture which is up and running and addresses a social problem. We are open to "intrapreneurs" too.
Strong English: Participants must have a command of English which is strong enough to participate in small group conversations / present their work.
Organisational stage: The organisation should be beyond the idea stage and currently active.
Impact: The organisation should solve a social/environmental issue and have some impact.
Innovation: The organisation should show some elements of innovation for the specific context.
Values: The applicant should demonstrate an alignment with the CXC values.
Character: The applicant should show an entrepreneurial and creative mindset.
Motivation: The applicant should show motivation to co-create and collaborate.
The summit and your application
Date: The summit takes place from 1st-3rd and 5th-7th of December 2021.
Location: Online
Fee: Free of charge.
Deadline to apply: The deadline to apply for this summit is 22nd October 2021.
Successful applicants will be informed as quick as possible.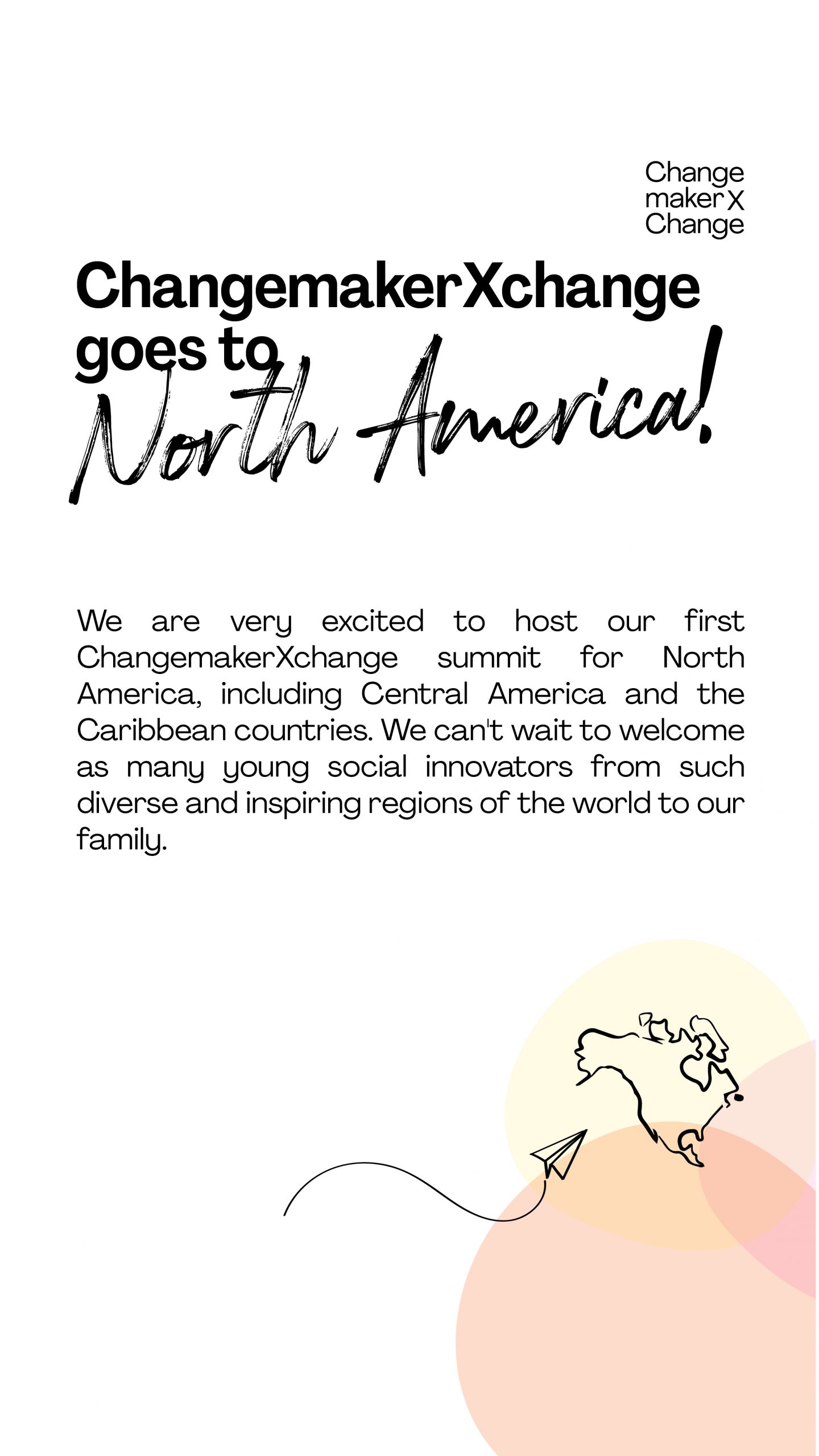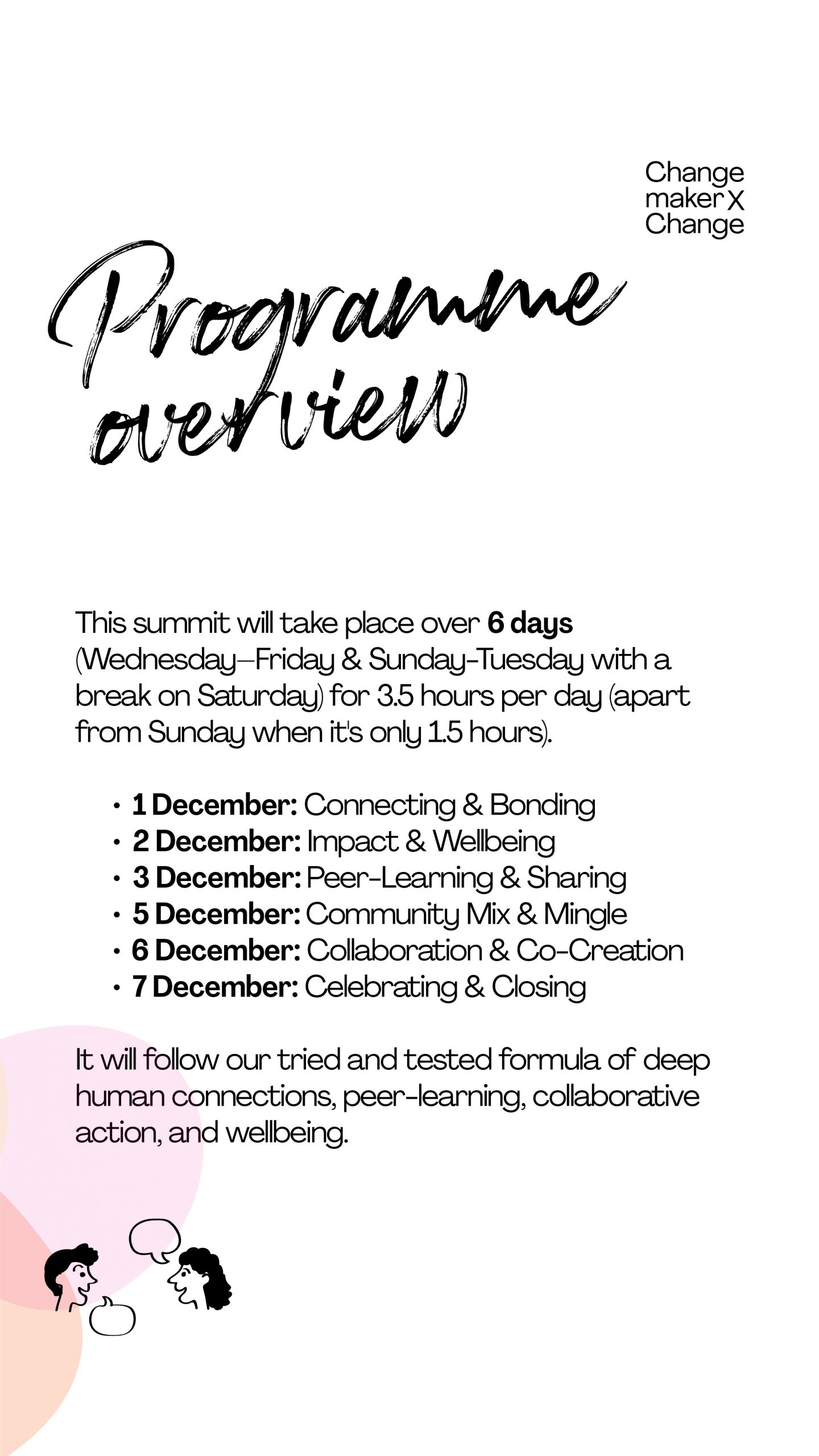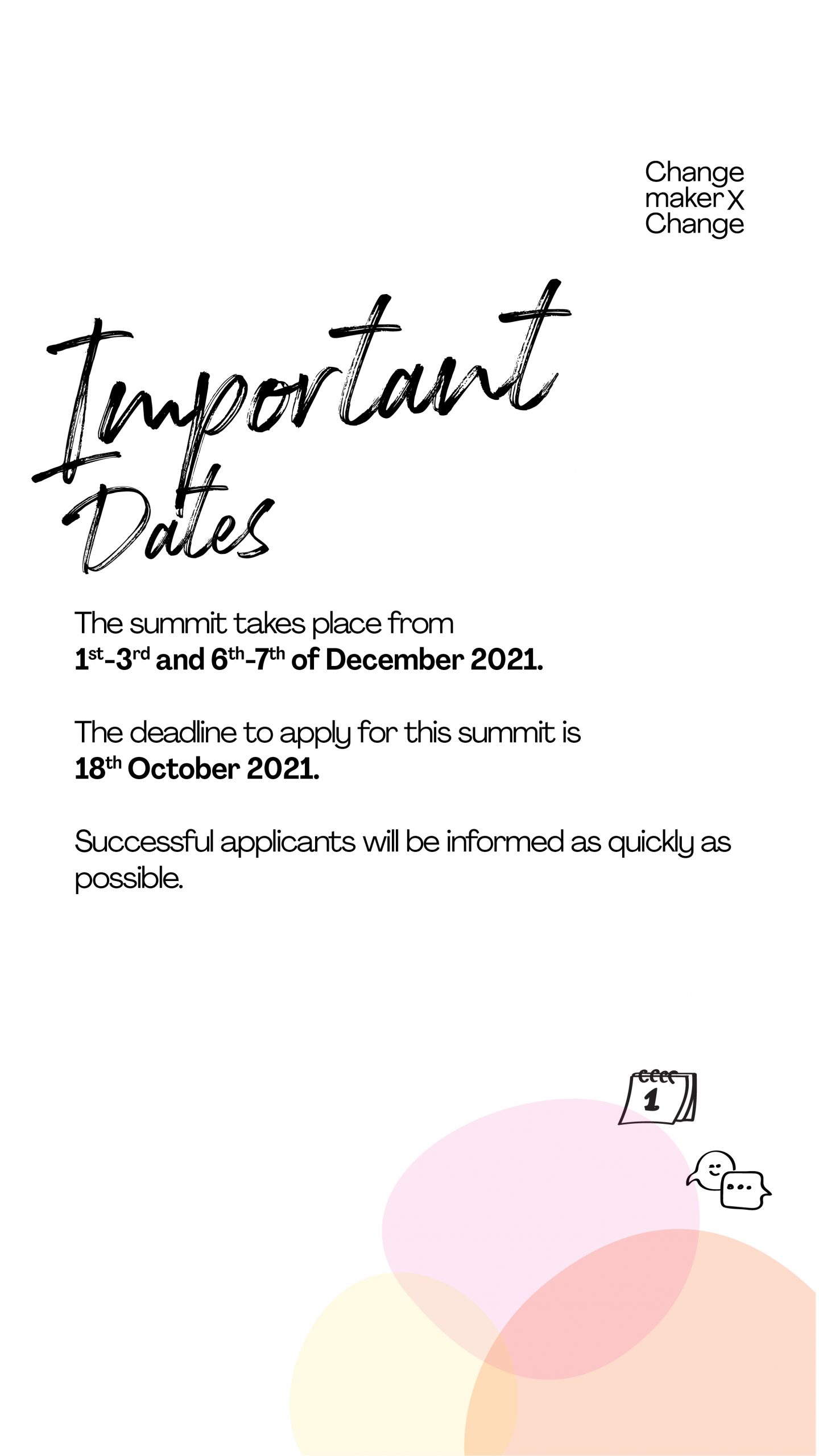 Do I need to be the original founder or co-founder?
No, we also welcome applications from changemakers, etc. who might have joined at a later stage. However, it is important that you are in a clearly defined leadership position. We unfortunately cannot accept applications from other employees or volunteers. 
Is there an interview as part of the selection process?
Given the high number of applications we receive and the limited staff capacity, only candidates who are being considered for the final shortlist will be invited to a short informal interview to ensure their suitability in the programme and their fit with the community. 
I did not receive a confirmation email after applying – how do I know if my application went through?
You should receive an automated confirmation e-mail from Typeform (please also check your spam). If you have not received one after submitting your application please reach out to and we'll look into it. 
When will I hear back if I was selected?
We will get back to all applicants at different stages. Selected applicants will hear back at least 6 weeks before the start of their summit.  
Can I receive feedback on my application?
Unfortunately, we cannot provide individual feedback on each application. But we do send a thorough email to all applicants outlining the full application and selection process, which has always been appreciated by applicants in the past. 
Can my co-founder join instead of me?
ChangemakerXchange invests first and foremost in the person, aka you. In the event that you cannot attend the summit anymore, we unfortunately cannot accept your co-founder as there are other candidates who went through the whole application process and have been waitlisted. 
Can I join only part of the summit?
Unfortunately, no. The ChangemakerXchange summit is an intense and enriching experience that makes sense if undertaken from start to end. This means we can only accept applicants who can commit to the full duration of the summit. Also, we will only allow participants who have joined all sessions on all days into the ChangemakerXchange community.
What happens after the summit?
Attending a ChangemakerXchange summit is the first step to join a global community of 800+ changemakers. Once you are part of the community, there are several engagement opportunities you can benefit from, including: 
Becoming a community host and bring

ing

 the CXC summit experience to your 

country;

 

Joining the Global Facilitation Pool to facilitate CXC-like experiences to other 

changemakers

 around the 

world;

 

Expanding your network and deepening your knowledge and 

expertise

 thanks to 

our

 

member 

gatherings and online 

huddles;

 

Amplifying your impact through new collaboration projects with fellow changemakers;

 

Attending the Global Co-Creation Summit to shape the future of the community.

 
The beauty of ChangemakerXchange is that it is a very dynamic and constantly evolving community, continuously shaped by the needs and feedback of its members.  
What is the value of joining ChangemakerXchange?
We believe the words of our community do the best job of highlighting the value of joining ChangemakerXchange.
"I wanted to change the world for the better since I was 14. But everyone around me would tell me 'be normal, go to college, get a job, don't try to do more than you can'. After CXC, I realised that I don't want to have a 'normal' life. I want an extraordinary life. I want to fully realise my mission to paint the world in bright colours of peace, unity, and love. And ChangemakerXchange catalysed the process of realising my mission. Thank you!" 
"CXC is an incredible platform to change the mindset and perspective on many things (to the best of course). I can definitely say that I've been transformed, and I now have a much better understanding about what it takes to be a social entrepreneur, scaling impact and opening yourself to others." 
"CXC gave me a feeling of belonging. I have been part of many conferences and different communities, but CXC still feels like home because of the genuine values, the genuine goals and long-lasting friendships."